Volume 29 Number 6
Stony Brook, NY

<

June 2018

>
Academic Research Evening
James P. Dilger, PhD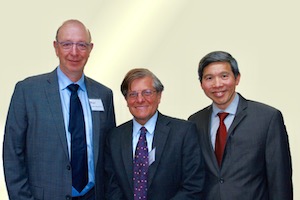 Our annual Peter S.A. Glass Academic Research Evening was held on May 8. As the Keynote Speaker, Dr. Michale Roizen, Chief Wellness Officer at the Cleveland Clinic, informed and entertained a large audience! He showed us historical trends for life expectancy and extrapolated them to a century and beyond. And, we'll be working for more years, too! Don't get too attached to the idea of a single career in your lifetime - two or three will become the norm. Of course, long, healthy lives are not going to simply come our way! We have to stay active, be careful about what we consume and pinch our pennies. He gave us a whirlwind tour of his Fab 8+2 system. I don't know about you, but it left me breathless. If you missed Dr. Roizen's talk or need a refresher, you can always check out his latest book
AgeProof: Living Longer Without Running Out of Money or Breaking a Hip
.
Ten Research Posters were selected to be presented in two Moderated Poster Discussions.
Basic Research Session
•
Richard Keegan
, PhD Candidate, Department of Neurobiology and Behavior. "Cellular Labeling of Endogenous Viral Replication (CLEVR) Reporter: A Novel method for Endogenous Retrovirus examination."
•
Yung-Heng Chang, PhD
, Postdoctoral Fellow, Department of Anesthesiology. "Glial cells actively kill neurons via retrotransposon/ERV expression in a Drosophila model of Amyotrophic Lateral Sclerosis."
•
Yujie Huang, PhD
, Department of Anesthesiology. "Distinct effects of propofol vs sevoflurane on post-surgical metastases are associated with the angiogenesis switch."
•
Sheed Itaman
, PhD Candidate, Department of Neurobiology and Behavior. "NMDA receptor antagonist memantine induces de novo division of adult neural stem cells."
•
Rany Makaryus, MD
, Assistant Professor, Department of Anesthesiology. "Multiple Neonatal anesthesia suppresses neuronal proliferation in adults rodent hippocampus."
Clinical Research Session
•
Igor Izrailtyan, MD
, Associate Professor, Department of Anesthesiology. "Establishing a Comprehensive Perioperative TEE CQI Program in the Anesthesiology Department: An Initial Experience."
•
Justin Smith, MD
, CA-3 Chief Resident, Department of Anesthesiology. "Enhanced Recovery After Surgery (ERAS) Program in Patients Undergoing Lumbar Fusion."
•
Ramon Abola, MD
, Associate Professor, Department of Anesthesiology. "Randomized Controlled Trial of Sugammadex vs. Neostigmine for Reversal of Neuromuscular Blockade: Impact on Measures of Early Postoperative Strength."
•
Ramon Abola, MD
, Associate Professor, Department of Anesthesiology. "Prospective assessment of a preoperative carbohydrate beverage as part of an enhanced recovery after surgery (ERAS) program for gynecological surgery."
•
Ethan Kim, MD
, CA-3 Resident, Department of Anesthesiology. "Comparison of Plasma D-Dimer Levels after Cardiac vs. Non-Cardiac Surgery."

Three travel awards were presented:
Dr. Ramon Abola
(Best Clinical Science Poster),
Mr. Sheed Itaman
(Best Basic Science Poster), and
Dr. Justin Smith
(Best Resident Presented Poster). We thank
Dr. Peter Glass
for funding these awards.
The poster session in the lobby featured 26 research projects performed in our department.
•
Abola R
, Lian X, Zhang J,
Adsumelli R, Romeiser J
, Blaber J, Griffen T,
Gan TJ, Bennett-Guerrero E
. Evaluation of an Enhanced Recovery After Surgery (ERAS) Program for Minimally Invasive Gynecological Surgery.
• Achonu J,
Ackermann A, Iftikhar H
, Gurevich M, Uddin S, Komatsu D,
Kaczocha M
. A Rat Model of Total Knee Arthroplasty.
• Adamo S,
Dilger JP
, Figueiredo J. Acetylcholine and Nicotine Potentiate Currents in Cells Isolated from the Sea Anemone
Nematostella vectensis
.
•
Amelchenko E
, Castaneda RM, Osten P,
Enikolopov G
. Neuronal Activation Induced by Ketamine: Visualization Using High Throughput Whole-Brain Imaging.
•
Brown A, Fleischer L, Richman D
. 23 and You: How Genetics Can Impact Your Anesthetic and Your Life.
•
Elmes MW
, Deutsch DG,
Kaczocha M
. Fatty-Acid-Binding Proteins Regulate Phytocannabinoid Metabolism.
•
Fischl A, Georges R, Hua B, Josma J, Khmara K, Kim E, Sharma A, Smith J, Weng M, Tito M, Steinberg E, Abola R
. An Educational Video on Epidural Analgesia to increase Patient Satisfaction on the Labor and Delivery Unit.
•
Georges R
, Wang E,
Schabel J
. Synconvulsion in a Preeclamptic Patient.
•
Gupta R, Romeiser J, Gan TJ
. Enhanced Recovery after Surgery Program Shortens Hospital Length of Stay and Reduced Opioid Consumption in Colorectal Surgical Patients.
•
Gupta R, Romeiser J, Gan TJ
. Surgery Related to the Fasting Experiences Prior to and After Implementation of an Enhanced Recovery Pathway.
•
Gupta R, Romeiser J, Rizwan S
. Survey of ERAS Provider Practices Across North America and Europe.
•
Lauzadis J, Yong L, Puopolo M
. Role of T-type calcium channels in spontaneous firing of nociceptors following Spinal cord injury.
•
Lauzadis J, Yong L, Puopolo M
. Serotonin inhibition of transient receptor potential vanilloid type 1 (TRPV1) channels in dorsal root ganglia neurons.
•
Li R, Huang Y, Liu H, Dilger JP, Lin J
. Reducing Lung metastasis in a Tail Vein Injection Mouse Model by Combination Treatment of NSAID and β-blocker.
•
Li R, Li M, Liu H, Huang Y, Dilger JP, Lin J
. Comparing volatile and intravenous anesthetics in a syngeneic mouse model of breast cancer metastasis.
•
Li R, Xiao C, Liu H, Huang Y, Dilger JP, Lin J
. Effects of local anesthetics on breast cancer cells viability and migration.
•
Liu H, Li R, Dilger JP, Lin J
. Potential Effects of Lidocaine on Breast Cancer Cells: Role of Transient Receptor Potential Melastatin 7 (TRPM 7).
• Maloney LM, Yin W, Lu W-H, Frame MD, Chandran L, Fleit HB, Iuli RJ,
Page CR
. Early Collaborative Education of Undergraduate Biomedical Engineering and Medical Students in Medical Innovation.
• Ni S,
Liu Y, Hua B, Schabel J
. Ephedrine induced Myoclonus
•
Palati S, Varghese E, Pentyala S, Monastero R, Mustahsan V
, Hurst L,
Pentyala S
. Rapid Gout Detection Kit.
•
Pentyala S
, Komatsu D, Cappellino A, Udin S, Chitjian R, Savitt A, Anaganti S. Comparison of Calcitonin Receptor Fragment Peptide to Teriparatide for the Prevention of Ovariectomy-Induced Bone Loss.
•
Peunova N, Mikhailik A, Michurina T
. Tracheal Ciliated Cells' Response to Anesthetics.
•
Shanawaz MA
, Mago S, Stekol A,
Rebecchi MJ, Dilger JP
. Glycine Receptor Oligomerization Characterized by Number and Brightness Analysis.
•
Shih M-F
, Davis FP,
Chang Y-H
, Henry GL,
Dubnau J
. RNA-seq profiling of Drosophila mushroom body subtypes.
•
Thalappillil R, Scott B
, Seifert F. Resource utilization, Postoperative mortality and morbidity in Octogenarians: Our experience 10 years later.
•
Wetcher A, Bacon J, Azim S, Beg T
. Pulmonary and Brain Fat Embolism Syndrome.
We are grateful to the School of Medicine faculty members who judged the poster discussions. Thomas V. Bilfinger, MD, ScD, FACS, FACC, FCCP, Professor of Surgery, Department of Surgery; Hal Skopicki, MD, PhD, FACC, FAHA, FHFSA, FACP, Chief of Cardiology; Lina M. Obeid, MD, SUNY Distinguished Professor of Medicine; and Yusuf A. Hannun, MD, Director, Stony Brook Cancer Center.
Special thanks go to
Ms. Christine Fogarty
for all of her efforts in organizing this Evening! Her able assistants were
Sabeen Rizwan, Darcy Halper, Kentaro Sugimoto, Yong Lu, Keith Studholme, Jean Abbott, ShellyAnn Noriega and Joan Claeson
.
View more photos from the event.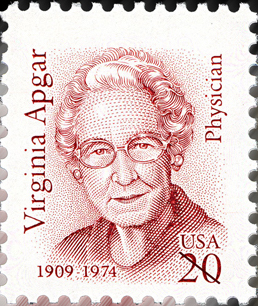 Sun. June 3, 6:30 pm. Resident Graduation at Flowerfields Celebrations.
Wed. June 6, 7:00 am. President Stanley will be the guest speaker at the Faculty Meeting in Lecture Hall 5 on Level 3.
Wed. June 13, 7:00 am.
Dr. Ramon Abola
will present Grand Rounds in Lecture Hall 5 on Level 3.
Tue June 19, 4:00 pm.
Dr. Srinivas Pentyala
will will talk about "Rapid Gout Detection Kit" in the Family, Population & Preventive Medicine Seminar Room (066) on Level 3.
Wed. June 20, 7:00 am.
Dr. Hasan Zia
will present his Senior Grand Rounds in Lecture Hall 5 on Level 3.
Wed. June 27, 7:00 am.
Dr. Rishimani Adsumelli
will the chair the Quality Assurance meeting in Lecture Hall 5 on Level 3.

STARS: STaff Appreciation and Recognition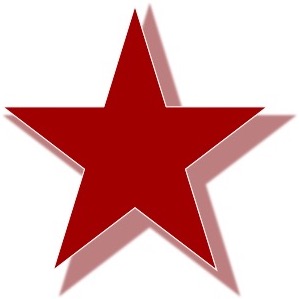 Jerry A. Rubano, MD, FACS, Assistant Professor of Surgery
From the time I was a resident here, through my fellowship and now over the last few years as an attending, it has always been an absolute pleasure to work with
Dr. Tommy Corrado
. I have many good friends and colleagues in the department of Anesthesiology and could praise many of them. However, I don't think I have ever worked with someone who is as collegial as Tommy and who is in a perpetual good mood. Whether Tommy and I have had to work side by side during disastrous Code Ts or have had a "simple" procedure in the OR together, it is always comforting to see Tommy there. He and I would have too many tales to recount. In any case you're thrown into with Tommy, planned or emergent, you know your patient will receive excellent care and you will have an enjoyable atmosphere in which to work. Today, some of the new anesthesiology residents spent their first day in the operating room. Seeing Tommy interact with them, teach them, allow them to perform the procedures and still run the room expeditiously and educationally reminded me of how impressive he can be as an anesthesiologist, educator and colleague. I look forward to being in Tommy's room again!

Patient comments about our Ambulatory Surgery Center staff from the Press Ganey questionnaires (compiled by Marisa Barone-Citrano, MA):

Anesthesiologist put me at ease and answered all my questions - very friendly.

Nurse anesthesiologist was excellent!

The anesthesiologist and the nurse anesthetist were professional, caring and made me very comfortable.

My anesthesiologist was wonderful. I was very nervous and she reassured me.

Anesthesia/Anesthesiologist - He made me less anxious & was so nice!

Nurse anesthesiologist was excellent!



Ralph Epstein, DDS
Our three senior dental anesthesia residents,
Dr. Jonathan Bacon
,
Dr. Tyler Tomkinson
, and
Dr. Hasan Zia
passed the written board examination of the American Dental Board of Anesthesiology. They will now be able to sit for the oral board examination in June 2019. Congratulations and thanks from all of us at SB!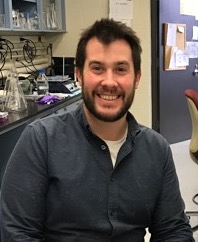 Congratulation to Matthew Elmes who successfully defended his PhD thesis! Matt earned his bachelor's and master's degrees in biology from Binghamton University prior to working as a research associate at Mount Sinai School of Medicine. He then came to Stony Brook University for his PhD research in the Molecular and Cellular Biology Program, where he was co-advised by
Dr. Martin Kaczocha
of the Anesthesiology Department and by Dr. Dale Deutsch in the Department of Biochemistry and Cell Biology. During his time as a graduate student Matt wrote and was awarded an F31 predoctoral NRSA fellowship. His PhD dissertation was entitled 'Fatty Acid Binding Proteins Facilitate Cannabinoid Transport and Metabolism'. Matt was recently offered an industry-sponsored postdoctoral position and will remain at Stony Brook to continue working on developing small molecule endocannabinoid transport inhibitor drugs.

Chief Residents for 2018-2019
Joy Schabel, MD
Congratulations to
Drs. Demetri Adrahtas
,
Michael Khalili
and
Sana Na Javeed
for being selected by their peers and faculty members to serve as our 2018-19 Chief Residents! Dr. Adrahtas and Khalili will be the Chiefs in charge of resident-related issues. Dr. Na Javeed will be the Chief in charge of medical student-related issues.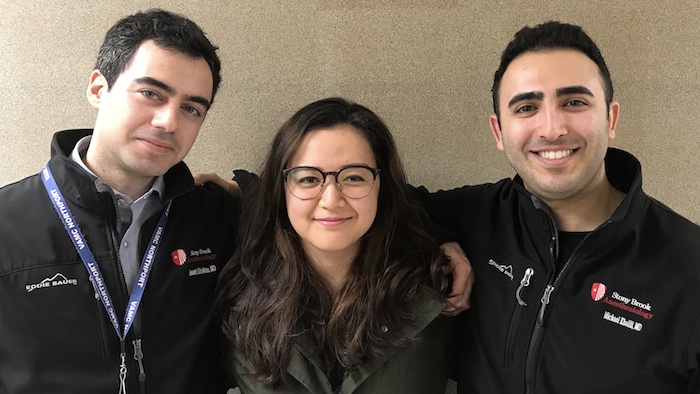 Division Chief's Corner
Orthopedics/Plastics Anesthesia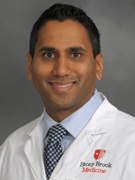 Syed A. Azim, MD
Dr. Khan's Cutting Edge Technology used at Stony Brook to treat Osteosarcoma
Fazel Khan MD is an orthopedic oncologist and joint replacement specialist at Stony Brook University Hospital. He graduated valedictorian of his medical school class at SUNY Downstate in Brooklyn, and did his residency in Orthopedic Surgery at the Mayo Clinic. He completed his fellowship in Orthopedic Oncology at Memorial Sloan-Kettering Cancer Center, and is now in practice for joint replacement and orthopedic oncology at Stony Brook.
Dr. Khan is the only orthopedic oncologist in Suffolk County, NY, specializing in Bone and Soft Tissue Sarcomas of the extremities and pelvis, as well as metastatic bone disease from other malignancies such as myeloma and metastatic disease.
Osteosarcoma (also referred to as osteogenic sarcoma) is the most common primary bone cancer. It develops most frequently in children. Common points of origin for osteosarcoma include in the bones around the knee (distal femur or proximal tibia), as well as the proximal humerus. Insidious onset of pain is the most common presenting symptom. Due to its relative rarity (less than 1,000 cases a year in the United States), children with this malignancy are often misdiagnosed initially, and a typical delay until the child presents to an orthopedic oncologist can be on the order of several months.
The sarcoma team members at Stony Brook are recognized national experts in the most advanced treatment of sarcomas such as osteosarcoma. The mainstay of treatment is intense chemotherapy (often for close to 1 year) and complete surgical eradication of the primary tumor. With the careful use of advanced imaging and sophisticated surgical technology (much of which has been pioneered by the sarcoma surgery research team at Stony Brook), limb sparing surgery rather than amputation can be performed in approximately 90% of cases. Even with advanced technology, these surgeries can be demanding both from a surgical and anesthesia perspective, often lasting more than 8 to 12 hours.
Orthopedic oncologic surgeries are challenging for the anesthesiologist also. Patients must receive a thorough preoperative evaluation to elucidate significant co-morbidities and to ensure optimization prior to the procedure. Orthopedic oncologic surgeries vary in length and complexity, the potential for massive blood loss and hemodynamic instability must be appreciated.
The use of regional anesthesia or peripheral or neuraxial block as a sole anesthetic may be effective alone or in combination with GA, but the postoperative plan for thromboprophylaxis also must be defined prior to choosing a technique. Pain control in the postoperative setting may be particularly challenging and it usually requires a multimodal approach. A well formulated anesthetic plan, created by effective communication between the anesthesiologist and surgeon, is essential to ensure optimal patient outcomes.

Ursula Landman, DO, FAOCA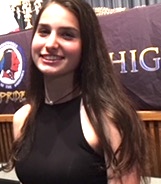 Sarah is being inducted into the National Honor Society of Comsewogue HS and is looking forward to a summer on USY Israel Adventure. Matthew finished his freshman year at Albany with a 4.0 GPA! He was recently inducted into the National Society of Collegiate Scholars, University at Albany chapter. William is working as a writer's assistant on the Starz show American Gods. Ira and I are very proud of all 3 of them-we are truly very blessed.
Srinivas Pentyala, PhD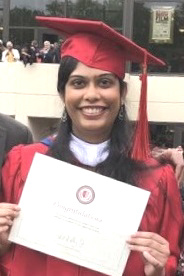 Sahana Pentyala graduated with a major in psychology. Sahana was born at Stony Brook Hospital, went to school in Three Village School District and now graduated from Stony Brook University. During her school and college years, Sahana volunteered in the hospital and worked in the departments of Anesthesiology, Urology and Orthopedics. As an undergrad student, Sahana was a coauthor in 8 publications with 2 as first author. She is also a co-inventor on the technology developed in our department related to rapid biomarker detection.
Syed Azim, MD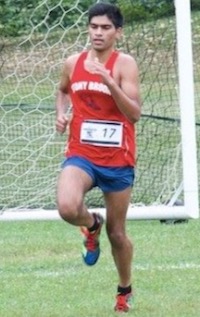 My son Adeel Azim graduated from Stony Brook University this year with his BS in Biology and minors in Business Management with Cum Laude distinction, as a fully inducted member of Stony Brook Sigma Beta Honor Society, Golden Key Honor Society, Vice President of Community Service for the National Society of Collegiate Scholars (NSCS), and as a founding member of the Stony Brook chapter of the National Society of Leadership and Success (NSLS). He will continue on here at Stony Brook University as a Graduate student pursuing his MBA in Healthcare Management through the Accelerated MBA Fast Track Program.
Adeel also works on various research projects in our department, first with
Dr. Mario Rebecchi
and now alongside
Dr. Michelino Puopolo
.

Srinivas Pentyala, PhD
It is with great pleasure that I inform you about our 15th Annual "Science And Research Awareness Series" (SARAS) that will take place in July (9-27). Our department started this summer program in 2004 with 21 students and 1 faculty member. It was an opportunity for students to learn about cutting edge technologies and novel findings in the field of Biomedical research. Interest in the program grew rapidly and now students from all over the country attend this 3-week program at Stony Brook Medicine. This year we have 128 students officially registered in the program and another 40 international students will join us for few sessions. More than 80 experts from clinical sciences, basic sciences, translational sciences, administration, law and business have volunteered to educate, excite and inspire the students. Please check out the program details by going to the
SARAS website
.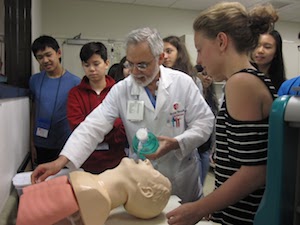 If you find any of the topics interesting (or never had a clue as to what these topics and clinical or research areas are), you are more than welcome to attend the program in Lecture Hall 5, Level 3, and in the Med Student Lab -161 on Level 2. This is "our" program being organized by "our department", so drop by during the program and see what goes on in SARAS. Thanks for all your support in making this program one of the most sought-after summer programs in Biomedical Sciences.
Our "Clinical Skills' workshop takes place on July 23 (Monday) from 1:30 PM to 4:00 PM in our Clinical Skills Center. Each year, several of our colleagues take time to help run this Workshop. Still, we desperately need additional experts to interact with SARAS students this year. If you (Faculty/Residents/Nursing and Nurse Anesthetist Staff) are interested (and are available on July 23), we welcome your help.
WARNING
: you will become an instant "ROCK STAR" and "ROLE MODEL" for these enthusiastic kids! If you are interested, please let me know.

Research News - Gout Detection Patent
Srinivas Pentyala, PhD
Gout is a type of arthritis that occurs when uric acid crystals accumulate in the joints. Polarized microscopy imaging of synovial fluid is performed in diagnostic labs to identify gout. This technique is expensive, time consuming and also requires trained technicians. Hence, we developed a novel point-of-care method and device that can detect uric acid crystals colorimetrically. A smart phone or a tablet with a portable microscope adapter takes images of the uric acid crystals and saves them to patient records. This novel gout detection method and kits can be used in office based physician practices and hospital settings to rapidly detect gout and aid the healthcare giver provide quality care immediately. Based on preliminary studies, a provisional patent application was filed with the US patent office in May 2017. After reviewing proof of concept studies, Stony Brook's Office of Technology Licensing and Industry Relations (OTLIR) has converted the provisional application to a Patent Cooperation Treaty (PCT) International application on May 11, 2018 for protection of the intellectual property related to Rapid Gout detection in 152 countries worldwide. I will be giving a talk about this project on June 19 (see
June Calendar
).

Ruchir Gupta, MD
Dr. Ruchir Gupta
attended the the 33rd Annual Meeting of the Society for Ambulatory Anesthesia (SAMBA) in Miami from May 3-5. He gave three talks:
* The Opioid Crisis and the Role of the Ambulatory Anesthesiologist

* Cases from The Real World

* Evaluation of an Anesthesia Contract



Ramon Abola, MD

This year, the annual SOAP (Society for Obstetric Anesthesia and Perinatology) was held in Miami, Florida. Our setting was the beachside Lowes Hotel on Miami Beach with 78 degree sunny skies. We were a short walk from South Beach and the Art-Deco Architectural district, which is unique to Miami.
SOAP was celebrating its 50th annual meeting. The first SOAP meeting was held in the Admiral's Lounge at the Chicago O'Hare airport. There were six people in attendance who have become known as the "Chicago 6." The meeting was 3 hours long and represents the birth of an anesthesia subspecialty. Richard Clarke, one of the original Chicago 6, accidentally became an obstetric anesthesiologist, as this was the only faculty position available for him at Arkansas, his home state. At the time, anesthesiologists were reluctant to go to the labor and delivery suite. Most cesarean sections were done under general anesthesia, and mothers were heavily sedated (narcotic-scopalamine) during labor. Anesthesia accounted for 3-10 percent of all maternal mortality.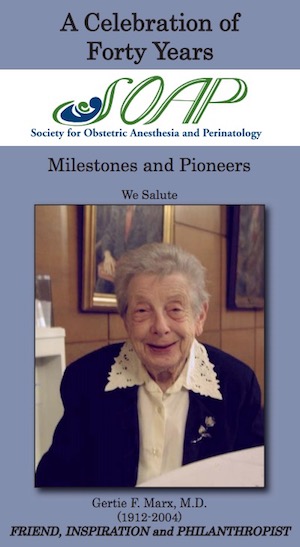 This year's distinguished service award was given to David Chestnut, perhaps best known for the excellent textbook – Chestnut's Obstetric Anesthesia. A video tribute was presented which celebrated the life and work of Gertie Marx, the mother of obstetric anesthesia. A
pamphlet
was distributed at the 40th annual SOAP meeting which celebrates her life, SOAP, and other pioneers in obstetric anesthesia.
The keynote speak of the conference was Jerome Adams, the United States Surgeon General. Dr. Adams is an anesthesiologist and was previously the Indiana State Health Commissioner. Dr. Adams motto as surgeon general has been "Better health through better partnership." He views his role as surgeon general as leading through science to promote better health for all Americans. His talk focused on the opioid epidemic that we are currently confronting. The recent surgeon general advisory recommends that more individuals should carry the naloxone for the reversal of opioid overdose. Other suggestions included evaluating our opioid prescription practices and creating opioid take back programs for patients. Dr. Adams challenged all in attendance to become part of the solution to the opioid crisis.
An interesting study found that patients reported similar rates of pain control whether they were prescribed a standard 30 oxycodone pills after c/section or a personalized amount (average 20) based on inpatient use. Patients took on average 2/3 of their opioids prescriptions after c/section regardless of how much they were prescribed. Almost no patients properly discarded of their left over opioids after surgery.
Maternal mortality in increasing over the past 15 years in the United States, and the US has a higher maternal mortality rate compared to other industrialized nations. Cardiovascular disease is the leading cause of maternal mortality. Two patient populations with high rates of mortality are mothers with prosthetic valves and mothers with congenital heart defects. Prosthetic valve patients pose the challenge of balancing the risk of anticoagulation, postpartum hemorrhage, and risk of thrombosis off anticoagulation. Many patients who had congenital heart defects corrected in the 1980s and 1990s are now reaching childbearing age and optimal management needs to consider where to delivery (cardiac OR vs L&D), how to delivery (C/section vs vaginal), what anesthesia to use (GA vs epidural) and what are the specific hemodynamic goals for each patient.
Postpartum hemorrhage continues to be a leading cause of maternal mortality. Tranexamic acid should be considered as an adjuvant therapy during postpartum hemorrhage. The WOMAN trial randomized 20,000 women in low resource countries and found decreased risk of death from hemorrhage with 1g of tranexamic acid versus placebo in the setting of postpartum hemorrhage. Thromboelastrogram represents a point of care tool that can identify coagulopathy or fibrinolysis and guide transfusion therapy in the setting of hemorrhage. Resuscitative endovascular balloon occlusion of the aorta (REBOA) is another technique that can be used in the setting of massive hemorrhage.
Dr. Daryn Moller
stated that vascular surgery could provide similar services currently here at Stony Brook Medicine.
There were several presentations concerning ERAS after c/section. The institutions that have implemented ERAS programs emphasized the importance of collaboration between the many medical services that are involved in childbirth including obstetrics, anesthesia, midwives, nursing, pediatrics, social work, and lactation consultants. It was identified that patient education represented an easy area to improve care: detailing what to expect on the day of c/section and what to expect in the postpartum period.
We had good representation from the department at SOAP this year:
Drs. Joy Schabel, Tracie Saunders, Ana Costa, Michelle Delemos
and myself. We even saw our former resident, Dr. Aylin Gonzalez at SOAP, who works close by in South Florida. We are expecting a new update to the
SOAP website
with resources for patients and clinicians. Please consider becoming a SOAP member if you are not one already. Next year's meeting will be in Phoenix.

Anesthesia Interest Groups
Ursula Landman, DO, FAOCA

The Stony Brook Medical Student Anesthesia Interest Ggroup finished off the year strong with a meeting of the matched 4th years into anesthesia residency programs. The following MSIV spoke to the group on March 27 Jospeh Cyriac Kadiyankuttiyil, Eun Hwangbo, and Isaac Yeung. The AIG leaders for 2018-2019 are James Schurr, Aatman A Makadia, and Britney Parveena Dhautal. The NYIT-COM AIG also met with the matched group. I gave a talk on how to excel on rotations. The new NYIT-COM AIG board consists of Ooha kambhampati, Raplh Bar-El, Omar Negaria, Asheley Ropell, and Priyanka Batta. Both groups are enthusiastically looking forward to a great upcoming year. If anyone is interested in speaking to the groups, please let me know.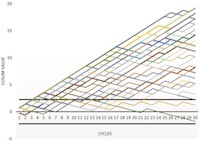 James P. Dilger, PhD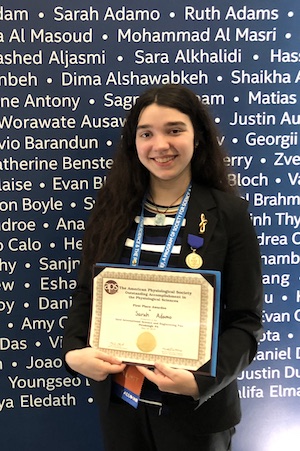 When I last wrote about Sarah Adamo
April issue of SleepTalker
, she had just blown away the competition at the New York State Science and Engineering Fair. Sarah has been working in my lab since last summer when she performed the first patch clamp recordings on cells from the sea anemone
Nematostella vectensis
. In May, Sarah and her teacher Dr. Joanne Figueiredo traveled to Pittsburgh for
ISEF, the International Science and Engineering Fair
(May 13-18). Well, Sarah did it again! She scored a First Award in the Animal Sciences category for her project "Acetylcholine and Nicotine Potentiate Currents in Cells Isolated from Sea Anemone
Nematostella vectensis
"! In addition, Sarah won two special awards. The First Award from the American Physiological Society. And an award from the China Association for Science and Technology. Wow!
I am always awed by the accomplishments of high school students who have worked with me, but Sarah is quite special. She took on a project that she knew might not lead to a guaranteed success. She had to find a way to isolate cells from the animals that could be studied with patch clamp electrophysiology. She had to hope that the cells she isolated contained some currents worth studying. And, she had to hope that these currents were modified by nicotine - a hypothesis that arose from her behavioral studies on the anemones during the previous summer. As is usually the case in science, hard work, a bit of luck, and more hard work are required. Sarah was certainly up to the task! Sarah will attend Northeastern University in the fall, where she will major in Biomedical Engineering. Congratulations Sarah!!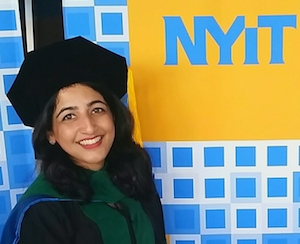 Sheena Mago, who worked with Mario Rebecchi and me as a Stony Brook undergraduate, just graduated from New York College of Osteopathic Medicine (NYCOM) at NYIT! She will be pursuing an Internal Medicine residency at the University of Connecticut. Congratulations Dr. Mago!

James P. Dilger, PhD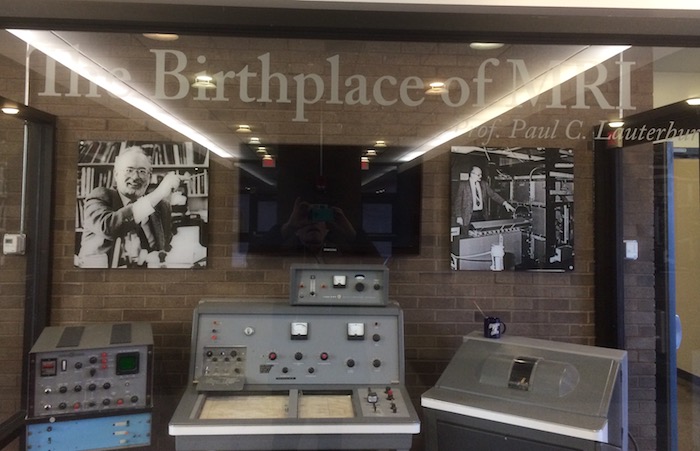 Monthly Muscle Chillaxant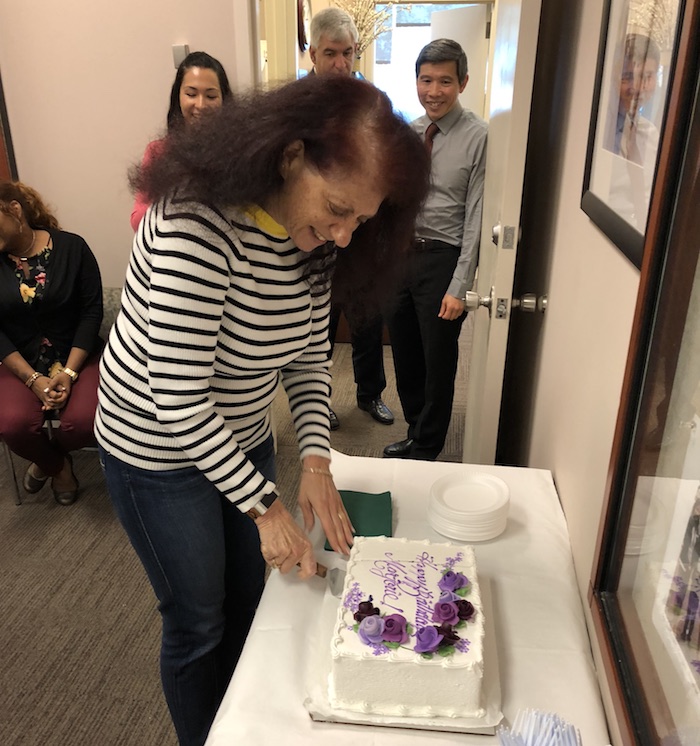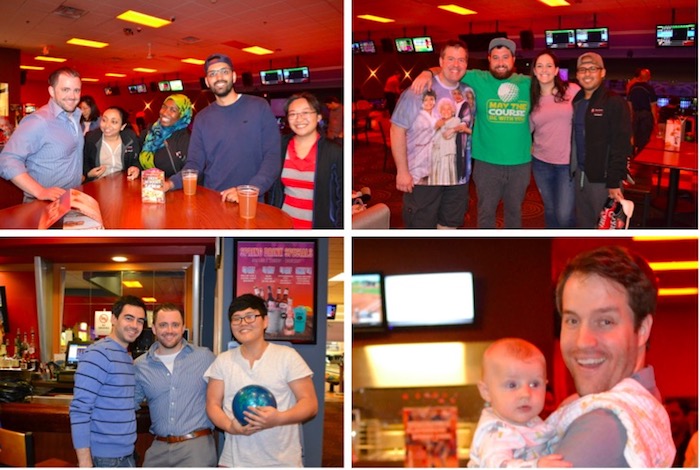 SleepTalker, the Stony Brook Anesthesiology Newsletter is published by the Department of Anesthesiology
Stony Brook Medicine, Stony Brook, NY
Tong Joo Gan, M.D., M.H.S., F.R.C.A., M.B.A., Chairman
Editorial Board: James P. Dilger, Ph.D.; Stephen A. Vitkun, M.D., M.B.A., Ph.D.; Marisa Barone-Citrano, M.A.; Richard Tenure, M.D.