Volume 25 Number 3
Stony Brook, NY

<

March 2016

>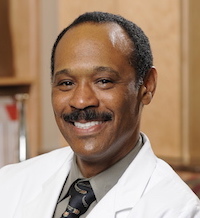 Keith A. (Tony) Jones, MD is our Visiting Professor for March. Dr. Jones is the Chair of the Department of Anesthesiology and Perioperative Medicine at the University of Alabama at Birmingham (UAB). He also holds the Alfred Habeeb Endowed Chair in the department. Dr. Jones received his MD from UAB and then moved to the Mayo Graduate School of Medicine for his Anesthesia residency, subspecialty training in Neuroanesthesia and a National Institutes of Health Research Fellowship. He was program director of Mayo's Smooth Muscle Physiology Laboratory from 2001-2006, and was promoted to the rank of professor in 2004. In addition to his many teaching, mentorship and clinical activities, Jones is a prolific researcher with interests centering on the cellular and biochemical mechanisms by which volatile anesthetics inhibit airway smooth muscle function and by which reactive oxygen species inhibit smooth muscle function. He has authored or co-authored more than 150 scholarly works. His studies have been consistently supported by research grants from the NIH. Dr. Jones was appointed Chairman of the Department of Anesthesiology at University of Alabama, Birmingham in 2006. We are delighted to welcome him back to Stony Brook; he was the Keynote Speaker at the 2008 Research Academic Evening.
Dr. Jones will present a Resident Conference on Tuesday, March 8 at 5:00 PM. His Grand Rounds talk entitled "Anesthesiologists as Acute Care Physicians: A Value-Added Proposition" will be on Wednesday, March 9 at 7:00 AM.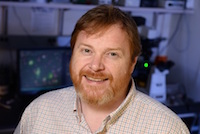 Kevin Czaplinski, Ph.D.
has joined the Research Division as Assistant Professor. Kevin received his Ph.D, at Robert Wood Johnson Medical School, and held two postdoctoral positions, one at the EMBL in Heidelberg Germany and the other at Albert Einstein College of Medicine, prior to starting his lab at Stony Brook's Center for Nervous System Disorders. He researches how controlling gene expression at mRNA level is critical to nervous system development and function. His current interests involve studies on the trafficking of mRNA within the cell, a poorly understood component of gene expression that makes a critical contribution to neural cell biology. His studies have had impact on nervous system development and stem cell maintenance, learning/memory, addiction, excitotoxicity/neurodegeneration and injury repair. He looks forward to joining the rich interactive research environment in the department.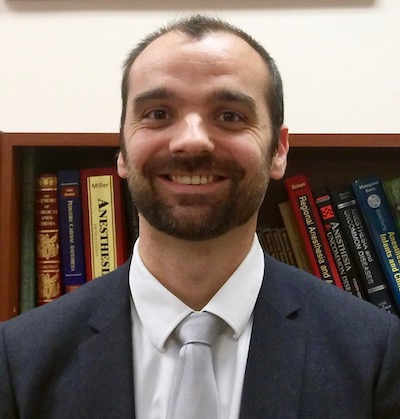 Eric Noll, MD, PhD
, has joined the department as a new Visiting Research Scholar for six months starting March 1. Eric attended medical school at the Lyon Nord Medical School in Lyon, France. In 2011, he completed an internship and residency in Anesthesiology and Intensive Care Medicine in Strasbourg University, France. Eric met Dr. Gan when he visited Strasbourg University for an invited lecture in 2015. The primary goals of this visit are to improve his skills in clinical research and to acculturate to the high medical standards of Stony Brook Anesthesiology. Dr. Noll's clinical activity concerns mainly orthopaedic surgery anesthesia. His research deals with perioperative thermal management and tissue perfusion monitoring. He arrived in Stony Brook with his wife Mélanie and their two kids Lucie, two years old and Alexandre, four years old. A warm welcome to Stony Brook for the entire Noll family!
Chris Gallagher, MD
A special note for two of our attendings whose work is a tremendous benefit to the program. They themselves tend to keep their efforts on the down low but I am afforded the luxury of bragging for them.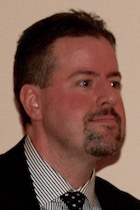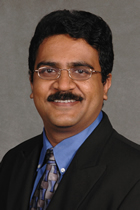 Dr. Shaji Poovathoor
is holding another review session to help the residents with the written boards. He puts a lot of effort into preparing, delivering, and explaining his questions and the residents comment often on how helpful his reviews are.
Dr. Tommy Corrado
, without being asked, routinely comes in during the worst weather situations (as he did with the last blizzard) to make sure the residents are taken care of, that there is adequate coverage in the OR's, and overall shepherding us through these difficult times.
Not surprisingly, the Ambulatory Surgery Center received some very nice feedback from the Press Ganey Patient Satisfaction Weekly Comments.
"The anesthesiologist was amazing - He took his time answering all of my questions regarding my son's surgery. My son was real concerned about the "needle" and he was amazing with him."
"I'd like to compliment the whole staff at the Stony Brook Ambulatory Surgery Center. I have already told friends & relatives about my good experience as a patient at Stony Brook Ambulatory Center. I was very pleased with the outcome of anesthesia, as I avoid general anesthesia because of past experience. Was very nauseous, but the anesthesiologist took care to avoid my being ill following anesthesia."
"Every staff member was so nice & explained everything thoroughly answering any questions we had."
"Great staff. Overall Assessment: Great experience thank you for making feel like a real person. Keep up the great work. I would happily recommend anybody to go to your hospital. I felt right at home. Anesthesia/Anesthesiologist: Professional staff."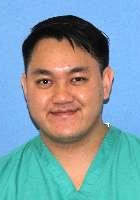 Dr. Arvind Chandrakantan commended
Dr. William Vuong
on his efforts. "In the midst of a fierce snowstorm, Bill came 2 hours early for his call to help relieve colleagues and get them home before the driving conditions were deleterious. It is this kind of above and beyond yeoman service which makes Bill a fantastic person and colleague to work with."
Dr. Gan received a note from a patient at the Pain Center about Sharon Faulkner. "We have been patients of Stony Brook University Hospital system for many years. In all those years, there have been only a handful of employees who have gone beyond the 'call of duty' by making sure our medical needs have been met. Ms. Faulkner is polite, courteous and professional at all times. She takes care of our paperwork, schedules our appointments and has gained our confidence with her professionalism. It is rare to see an employee that cares about their patients in the way that she does. She makes us feel as if we matter. It is very important to have established this kind of relationship with a healthcare provider and their office. We believe Ms. Faulkner is an asset to your center and makes a difference. It is rare in today's world to find someone who is such a conscientious employee such as she is."
John Fallon, CRNA
Please join me in giving a very warm welcome to our four recently hired nurse anesthetists.
Joan Resnik, CRNA. Joan was a member of one of the first classes to graduate from the Columbia University School of Nursing Program in Anesthesia. Her extensive work history as an anesthetist includes St. Lukes-Roosevelt Hospital, Glen Cove Community Hospital, Manhattan Eye and Ear, Winthrop University Hospital, Nassau County Medical Center and for the past 22 years, North Shore University Hospital.
Jennifer Chen-Sumida, CRNA. Jennifer is a 2009 graduate of the Fairfield University, Bridgeport Hospital Nurse Anesthesia Program. She has also received a Bachelor of Science from Boston University and a BSN from New York University. Jennifer comes to us from NYU Langone Medical Center in New York. Jennifer's mother, Dr. Lulu Chen, recently retired from a long and very successful career as an anesthesiologist at St. Catherine of Siena Medical Center in Smithtown.
Alanna Forte-Bhoorasingh, CRNA. Alanna is a recent graduate of the Rutgers University School of Nursing Program in Anesthesia. She has also received a Bachelor of Science in Chemistry from William Smith College in Geneva, New York, and a BSN from SUNY Downstate in Brooklyn. Prior to her enrollment at Rutgers, Alanna worked several years in the Surgical ICU at Kings County Medical Center.
Anna Buono, CRNA. Anna is also a recent graduate of the Rutgers University School of Nursing Program in Anesthesia. She received her BSN from SUNY Downstate and a BA / MA in Forensic Psychology from John Jay College of Criminal Justice. Anna also served as a Staff Sargeant in the United States Marine Corps from August 2000 to October 2011 and was deployed twice to Iraq and Kuwait in support of Operation Iraqi Freedom and Operation Enduring Freedom.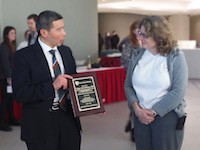 Dr. Peggy Seidman
has left our department in order to join Case Western Reserve University / Rainbow Babies and Children's hospital. Peggy came to our department in 2005 and has served as the Chief of Pediatric Anesthesiology since 2008. In addition to her clinical and administrative roles, Peggy was the driving force behind several educational initiatives. She developed the Clinical Skills curriculum that is used to train medical students at Stony Brook. She also promoted simulation-based education and has used this to enhance communication and teamwork by Residents.
Dr. Seidman will continue her clinical and educational efforts at CWRU. She will administer the Pediatric Anesthesiology Fellowship for the department and also develop a clinical skills curriculum for the medical school there. Best wishes for much success to Peggy from all of us!
View more photos from Peggy's farewell reception.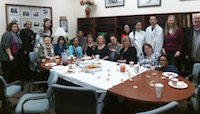 Mary McNally has left our department, but not Stony Brook. She has just moved "across the hallway" to the Department of Radiology. The department hosted a lunch in Mary's honor on February 11. We wish Mary the best in her new assignment!
Dr. Jun Lin has been appointed to the BMC Anesthesiology Editorial Board as an Associate Editor. The appointment became official on February 8, so "it made my Chinese New Year quite special! "
Ursula Landman, DO
Dr. Shaji Poovathoor spoke about Critical Care Medicine at the Anesthesia Interest Group meeting at Stony Brook. Many of the students expressed an interest in this subspecialty and were very interested to learn about it. The students of both Stony Brook and NYIT-com are looking forward to the match and hearing about the process from their fellow fourth year medical students .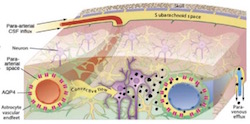 Jim Dilger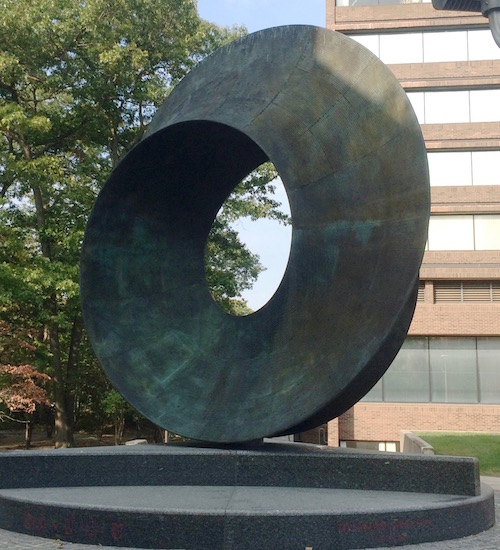 SleepTalker, the Stony Brook Anesthesiology Newsletter is published by the Department of Anesthesiology
Stony Brook Medicine, Stony Brook, NY
Tong Joo Gan, M.D., Chairman
Editorial Board: James P. Dilger, Ph.D., Stephen A. Vitkun, M.D., M.B.A., Ph.D., Marisa Barone-Citrano