Volume 25 Number 4
Stony Brook, NY

<

April 2016

>
Joyce Varughese, MD, Assistant Professor, Division of Gynecologic Oncology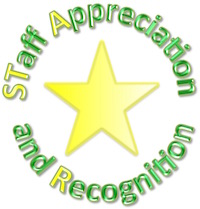 All too often you hear of the inefficiency of the OR but I wanted to let you know about the amazing teamwork in OR 3 today. We had a fantastic anesthesia team (
Dr. Gallagher
and CRNA
Joan Resnik
), nursing/scrub team (Suzanne, Logan, Caryn, Jenna), as well as housekeeping staff who kept the flow moving. Of course, the preop staff were also instrumental in getting the patients ready for the OR. In fact, our first patient was in the room by 7:20 AM and both of our turnovers were around 30 minutes.
Our staff in the Ambulatory Center received several compliments that was included in the Press Ganey Patient Satisfaction report:
"
Dr. Frank 'Barry' Florence
was wonderful. He made me laugh & feel comfortable. He explained everything to me. Couldn't have asked for better."
"Very kind & courteous care from
Dr. Redmond
."
"Very good experience with nerve block administered by
Dr. Redmond
as well as IV which required starting at a difficult site.
"Excellent in all regards. Facility: Highest marks! Outstanding! Staff checked surgery site, asked name, DOB, procedure and washed their hands. They were friendly, Professional & compassionate. Exceeded expectations. Very compassionate. Overall Assessment: Excellent teamwork of all staff! All aspects of care exceeded expectations. All questions were answered. Very patient. Friendly, professional and efficient."
Arvind Chandrakantan, MD
I just wanted to pass on my compliments for help
Dr. Aysha Hasan
recently afforded me during a personal emergency. She not only took my weekend call (and a few weekday calls as well), no questions asked, but also had to cancel numerous commitments that she had beforehand to make it work. I appreciate the collegiality Dr. Hasan afforded me.
A patient at the Pain Center wrote: "I recently started seeing
Dr. Marco Palmieri
in Pain management for a severely herniated disc. I saw Dr. Palmieri on March 15 for a consultation and he came up with a treatment plan we both both agreed on. He decided on doing an epidural on my lower back and got me in right away on March 17. He saw how much pain I was in. He thoroughly explained the procedure and set my nerves at ease. I felt so comfortable and well taken care of by Dr. Palmieri and his wonderful team. I also have to give recognition to Chanel and Diane who got me in ASAP. They really care about treating patients wonderful. All I can say is that I knew I picked the right Pain Management doctor the moment I said hello to Dr. Palmieri. I will let everyone I know who needs Pain Management to come to him."
Justin Putnam, a Stony Brook Medical Student who recently completed a mini-clerkship, wrote to
Dr. Joy Schabel
and
Ms. Sharri Allbright
to say "thank you both for a wonderful course. This course was extremely well organized and, due to the aforementioned, ran seamlessly. All of the involved personnel were extremely helpful and always had the best interest of the students in mind."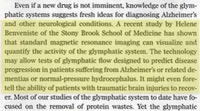 The research of
Helene Benveniste, MD, PhD
was highlighted in the article "Brain Drain" in the March 2016 issue of
Scientific American
. In the article, the authors, Maiken Nedergaard and Steven Goldman, tell the story of their discovery of the glymphatic system that is the waste disposal plumbing of the brain. Dr. Benveniste' team collaborated with the Nedergaard group and has spearheaded the effort to visualize and measure the activity of the system using MRI techniques.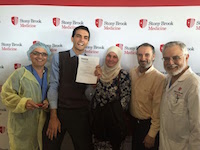 Ehab Albizri, MD a volunteer Clinical Research Associate, was quite delighted on Match Day when he found that he had matched with Stony Brook Anesthesiology's Residency Program. Congratulations Ehab!

Click here for more photos.
Shivam (Shiv) Shodhan
is the new Clinical Research Associate volunteering with our department. He recently graduated from St. George's University School of Medicine. Passionate for both clinical and academic medicine, his interest in Anesthesiology has allowed him to delve into multiple clinical anesthesiology and peri-operative medicine projects, including Enhanced Recovery After Surgery (ERAS) research. He has presented at multiple conferences (ASA, NYSSA, IARS, MAARC). He is also serving as our department's Resident Research Coordinator, assisting with developing and organizing residents' projects/case reports/posters/papers/etc. Simultaneously, Shivam is pursuing his MBA at the University of Florida, to further prepare himself for a future role in peri-operative leadership. With an enthusiasm for education, he has been teaching in various capacities for the past decade – mentoring and tutoring high school, undergraduate, and medical school students; instructing healthcare professional CPR/BLS courses; teaching personal development and promoting cultural diversity. Shivam continues to consistently hone his skills with the goal of becoming a practicing anesthesiologist, an educator, and a leader. Aside from his academic and professional interests, Shivam loves experimenting in kitchen with all ethnicities of food, as well as, actively and avidly traveling the world endlessly capturing his experiences through the lens of his camera. Stop by and say hi anytime!.
Editor's note: I am delighted that Shiv has also volunteered to help me publish SleepTalker! Don't be surprised if he e-mails you with a request for an article, interview or something else related to the newsletter. jpd
Starting this month, SleepTalker features the "Division Chief's Corner". It offers the opportunity for a division chief to write something about what is happening in his or her division: locally or globally. Dr. Probst kindly agreed to write the inaugural article for this section!
Neuroanesthesia Division News: The Apollo Procedure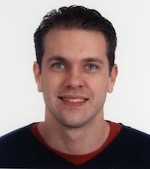 Stephen Probst, MD
In this article I discuss the new Apollo system for treatment of intracranial hemorrhage. I briefly discuss intracranial hemorrhage (ICH), the historic difficulties treating this condition, the Apollo procedure itself and how it is a hopeful advance in the treatment of ICH.
Intracranial hemorrhage, or bleeding within the brain, represents the most devastating type of stroke. ICH has the highest rates of associated morbidity and mortality. No specific medical or surgical interventions have been shown to improve outcomes in patients with ICH. Most patients are treated with blood pressure control and supportive medical care only. They typically spend many days within the ICU and hospital. Survivors are very often permanently disabled.
The neurological injury created by parenchymal hemorrhage is thought to have two distinct phases. Initially, there is direct injury to regional brain tissue through simple mechanical disruption by the hemorrhage.
1
In the hours and days that follow, additional injury to the surrounding brain tissue occurs. This is believed to be a direct result of the toxic effect of blood products on the brain as well as a local mass effect from the hematoma.
2
The regional injury surrounding the hematoma can be seen on neuroimaging as perihematomal edema (PHE). PHE and its associated mass effect, increases quickly within the first 24 h, peaks at 5–6 days, and then may begin to resolve.
3
It was suggested that early evacuation of the hematoma might mitigate or eliminate the delayed injury. However, trials of surgical hematoma evacuation failed to show any clinical benefit.
4
This failure might be due to injury of normal brain tissue by the surgical approach to the hematoma, particularly for deep hemorrhages. Thus, a less invasive means of hematoma evacuation could potentially be beneficial. A series of small, yet encouraging, case series and trials led to the
Minimally Invasive Surgery and Tissue Plasminogen Activator (tPA) in Intracerebral Hemorrhage Evacuation
(MISTIE II) trial, which compared a strategy of minimally invasive hematoma drainage with medical management.
5
The intervention consisted of stereotactically guided manual syringe aspiration of the hematoma followed by placement of a drainage catheter within the cavity, which could be irrigated with tPA to maintain its patency.
6
The trial showed that this interventional procedure reduced PHE, reduced length of stay and improved clinical outcomes measured at 1 year. The results indicated that, in general, greater reductions in clot size correlated with better patient outcomes, especially if the clot volume could be reduced to under 10 mL. However, this degree of clot reduction was rarely achieved in MISTIE II patients, even after days of catheter irrigation with tPA. The average volume of residual clot at the end of treatment in MISTIE II was 19.6 mL.
6,7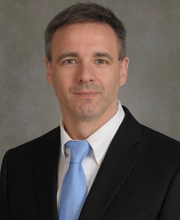 The Apollo procedure is a new endoscopically guided irrigation–aspiration system recently cleared by the US Food and Drug Administration for the evacuation of intracranial hemorrhage. The Apollo procedure can be performed through a small hole in the patient's skull. With imaging guidance, the Apollo Wand (a small suction tube) can be placed through this hole and into the region of the brain bleed.
The Apollo Program at Stony Brook University Medical Center is led by Dr. David Fiorella and has published multiple papers on the system ranging from proof of concept with cadavers to small case series involving patients. Results have been extremely promising thus far.
The procedure maintains the concept of using a minimally invasive approach to evacuate an ICH to reduce PHE, while minimizing procedure-related damage to brain tissue. The Apollo system further builds upon this concept by utilizing neuronavigation to plan the surgical approach, place the endoscopic working sheath, and assess the location of the sheath with respect to the hematoma throughout the procedure.
8
Secondly, endoscopic imaging is used for the entire procedure allowing visualization of the operative area, the Apollo wand during aspiration and actuation, location of residual hemorrhage for targeted aspiration and differentiation between hematoma and surrounding brain tissue.
8
This direct visualization of the interaction between the Apollo wand and the hematoma allows strategic manipulation of the wand to optimize the efficiency of clot removal.
8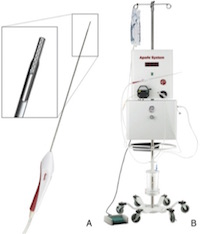 The procedure can be done in the neurointerventional suite, utilizing real time Dyna CT to evaluate residual clot volume or in the operating room, with a post operative CT. Anesthetic concerns for this procedure are as per other neurosurgical procedures: appropriate blood pressure management so as to maintain adequate cerebral blood flow, immobility to ensure adequate neuroimaging, keen awareness of location of monitors and lines so as not to interfere with the multiple pieces of equipment necessary for the procedure. Rapid communication of hemodynamic changes are necessary as a blockage in the suction-irrigator can rapidly lead to a Cushing response.
A multicenter randomized trial comparing the Apollo procedure to standard medical management for the treatment of cerebral hemorrhage is expected to begin in the near future. We are hopeful that future research will demonstrate that the Apollo procedure improves outcomes in ICH and finally offer hope to patients suffering from this disease.
References
Chandrakantan A, Saunders T. Perioperative Ethical Issues.

Anesthesiol Clin. 2016 Mar;34(1):35-42

Costa A, Richman DC. Implantable Devices: Assessment and Perioperative Management.

Anesthesiol Clin. 2016 Mar;34(1):185-99

Miller JD, Richman DC. Preoperative Evaluation of Patients with Diabetes Mellitus.

Anesthesiol Clin. 2016 Mar;34(1):155-69

Gupta R, Gan TJ. Preoperative Nutrition and Prehabilitation.

Anesthesiol Clin. 2016 Mar;34(1):143-53

Gupta R, Soto R. Prophylaxis and management of postoperative nausea and vomiting in enhanced recovery protocols: Expert Opinion statement from the American Society for Enhanced Recovery (ASER).

Perioper Med (Lond). 2016 Mar 2;5:4

Cohen OS, Chapman J, Korczyn AD, Nitsan Z, Appel S, Hoffmann C, Rosenmann H, Kahana E, Lee H. Familial Creutzfeldt-Jakob disease with the E200K mutation: longitudinal neuroimaging from asymptomatic to symptomatic CJD.

J Neurol. 2015 Mar;262(3):604-13

Muller J, Pentyala S, Dilger J, Pentyala S. Ketamine enantiomers in the rapid and sustained antidepressant effects.

Ther Adv Psychopharmacol. 2016 Mar 10;6(2):1-8

Gupta R, Gan TJ, Mythen MG, Ljungqvist O. The World Congress on Enhanced Recovery 2015 Conference Summary.

Anesth Analg. 2016 Mar;122(3):911-913

Pentyala S, Whyard T, Pentyala S, Muller J, Pfail J, Parmar S, Helguero CG, Khan S. Prostate cancer markers: An update.

Biomed Rep. 2016 Mar;4(3):263-268

Gupta R, Shodhan S, Hosny A. Retrograde epidural catheter relieves intractable sacral pain.

Indian J Palliat Care 2016;22:180-2
Jeff Josma, MD
Tryouts for the Anesthesiology Bowling Team took place on March 14. These battle tested individuals will be representing the Anesthesiology Department in Stony Brook's 3rd Annual Bowling Tournament on April 17th: Matthew F. Tito, Patty Cozzi, Martin Szafran, Brian S. Cho, David Pfeffer, Justin Smith, Minxi Weng, Shivam Shodhan.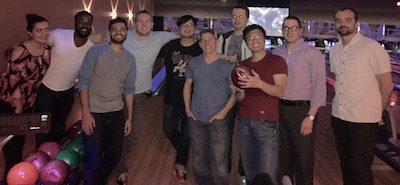 Jim Dilger
Frank Stellaccio correctly identified last month's photo: the giant Moebius strip sculpture in front of the Math and Physics buildings. Here is a new image for this month. If you can identify
where
it is, great! If you can identify
what
it is ... well, you know more about it than I do!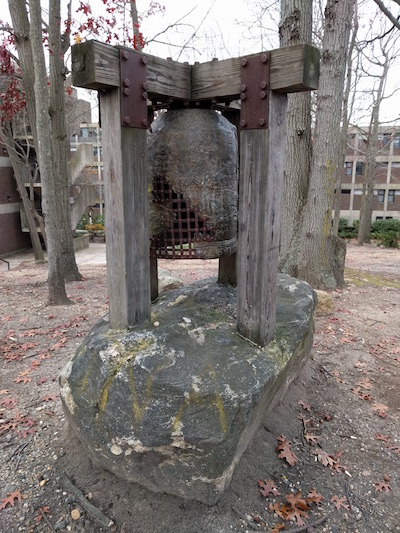 SleepTalker, the Stony Brook Anesthesiology Newsletter is published by the Department of Anesthesiology
Stony Brook Medicine, Stony Brook, NY
Tong Joo Gan, M.D., Chairman
Editorial Board: James P. Dilger, Ph.D., Stephen A. Vitkun, M.D., M.B.A., Ph.D., Marisa Barone-Citrano, Shivam Shodhan, M.D.