| | | |
| --- | --- | --- |
| Volume 31 Number 5 | Stony Brook, NY | < May 2019 > |
| | | |
Peter Glass Academic Research Evening 2019
Keynote Speaker: Dr. Evan Kharasch
James P. Dilger, PhD
We are delighted to welcome Dr. Evan Kharasch, MD, PhD as the Keynote Speaker for this year's Academic Research Evening. Dr. Kharasch is Professor of Anesthesiology at Duke University School of Medicine. He also serves as Vice-Chair for Innovation in the department and as Director of Research Entrepreneurship for the School of Medicine.
Dr. Kharasch received his MD and his PhD in Pharmacology from Northwestern Medical School. He moved to the University of Washington in Seattle for his Internship, Residency and Research Fellowship (Postdoctoral NIH Fellow) in Anesthesiology. From 1998 to 2005, Dr. Kharasch was a faculty member at the University of Washington becoming a full professor of Anesthesiology in 1997. In addition, he had an adjunct appointment in Medicinal Chemistry in the School of Pharmacy. Dr. Kharasch moved to Washington University, St. Louis in 2005. He was appointed Professor and Director of the Division of Clinical and Translational Research and one year later became the Russell D. and Mary B. Shelden Professor at Wash U. Among his additional duties at Wash U were Vice Chancellor for Research and Founding Director of the Center for Clinical Pharmacology. Last year, Dr. Kharasch made yet another eastward move; this time to Duke University.
It's hard to know where to start describing Dr. Kharasch activities and accomplishments. He has been recognized for his teaching as the recipient of the Professor of the Year, Distinguished Service Teaching Award. Washington University School of Medicine in 2016. He received the 2011 Excellence in Research Award from the American Society of Anesthesiologists and the Lifetime Achievement Award from the International Society for Anaesthetic Pharmacology (ISAP) in 2017. (I particularly like the title of his talk upon receiving this honor:
Going where science takes you
.) He has published over 250 refereed research articles. His current NIH grant funding shows some of the breadth of his research interests: "Nanotech biomarkers for renal cancer intervention: clinical validation & utility", "Optimizing outpatient anesthesia: improving analgesia and reducing opioid misadventure", and "5-HT3 receptor antagonists for neuropathic pain". He holds three patents for methods of renal cancer detection and has seven other patents pending.
Although you are likely to see Dr. Kharasch's name in many contexts, the most likely place is on the masthead of
Anesthesiology
. Since 2016, he has been the Editor-In-Chief of the journal.
Dr. Kharasch's keynote talk is entitled "Perioperative Opioids, Public Health and Anesthesiology". We look forward to hearing his perspective on this timely and important topic! Welcome to Stony Brook Anesthesia, Dr. Kharasch!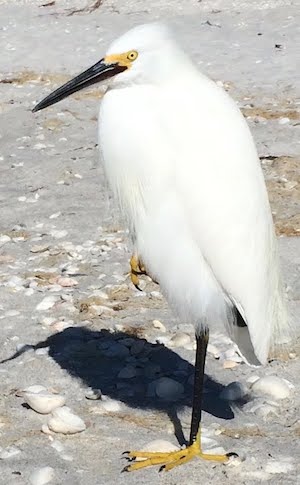 Wed. May 1.
Dr. TJ Gan
will chair the Faculty Meeting at 7:00 am in Lecture Hall 5, Level 3.
Wed. May 8.
Dr. Gina Chen
will present her Senior Grand Rounds at 7:00 am in Lecture Hall 5, Level 3.
Tues. May 14. Our annual Academic Research Evening will take place in the Wang Center from 3:30 - 8:30 pm. Keynote speaker, Dr. Evan Kharasch, will speak on "Perioperative Opioids, Public Health and Anesthesiology".
Wed. May 15. Visiting Professor, Dr. Evan Kharasch, will speak on "Perioperative methadone: Reducing pain and opioid use" at 7:00 am in Lecture Hall 5, Level 3.
Tues. May 21.
Dr. Martin Kaczocha
will present a Research Discussion at 4:00 pm in the Family, Population & Preventive Medicine Seminar Room (3-066).
Wed. May 22.
Dr. Ryan Cheung
will present his Senior Grand Rounds at 7:00 am in Lecture Hall 5, Level 3.
Wed. May 29.
Dr. Rishimani Adsumelli
will chair the Quality Assurance meeting at 7:00 am in Lecture Hall 5, Level 3.

STARS: STaff Appreciation and Recognition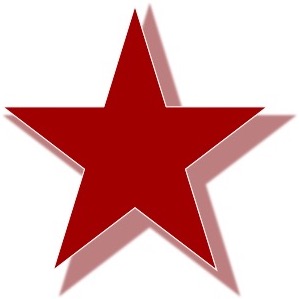 Patient comments about our Ambulatory Surgery Center staff compiled from the Press Ganey questionnaires by Marisa Barone-Citrano, MA:
The entire staff was amazing, RN, CRNA,
Dr. Florence
, Dr. Bui, and PA Michelle Froman. I was very pleased with Stony Brook Hospital ASC.

Dr. Srinivas Pentyala
is a recipient of this year's Michael A. Maffetone Distinguished Community Service Awards. (editor's note: I guess the 15th year of presenting SARAS was the charm!)
Dr. Ruchir Gupta
is receiving a degree in Master's in Clinical Research from the Massachusetts College of Pharmacy. At the SAMBA meeting (May 9-11) he will head up a panel entitled "Opioid Problems in Your Own Backyard," and present a PBLD on "Differences in Anesthetic Considerations in Office Based versus Ambulatory Settings."
Dr. T. J. Gan
has been named to the Editorial Advisory Board of
Anesthesiology News
.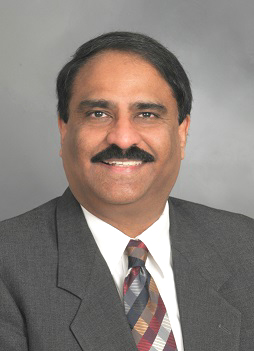 We bid a fond farewell to
Dr. Andrew Iskander
who is returning to New Jersey. We are pleased to say, though, that he will retain his connection with the department with a voluntary appointment as Clinical Assistant Professor!


Division Chief's Corner: NORA
Tazeen Beg, MD
When I last communicated with you, I spoke about the Endoscopy Unit, one of the main NORA (Non-Operating Room Anesthesia) sites. EP Lab is another such site, and believe me, not the most sought after one! But as of now, you don't have to be a Cardiac Anesthesiologist to be scheduled there.
The EP lab is situated on Level 5 in the Heart Center right opposite the Starbucks! Pretty easy to find, right? There are two EP rooms presently and a third one will be added soon! Yes, and to my surprise they are including us in the discussions about real estate! Anesthesia matters! The pre and post op patient care areas are shared with the Cath Lab (Cath Holding). The procedure rooms are fully equipped with state-of-the-art equipment including an anesthesia machine, a cart with supplies and a Pyxis shared by both EP and anesthesia personnel. You do not need to carry the 'blue grey' box anymore! Since we share the room with the radiology booms, C arms and various monitors all over the place, it does get a little congested but what is life without challenges! It's NORA, after all. And if you haven't figured out yet, you will need your lead apron, thyroid shield and better still, the Moller Eye wear if you can get one!!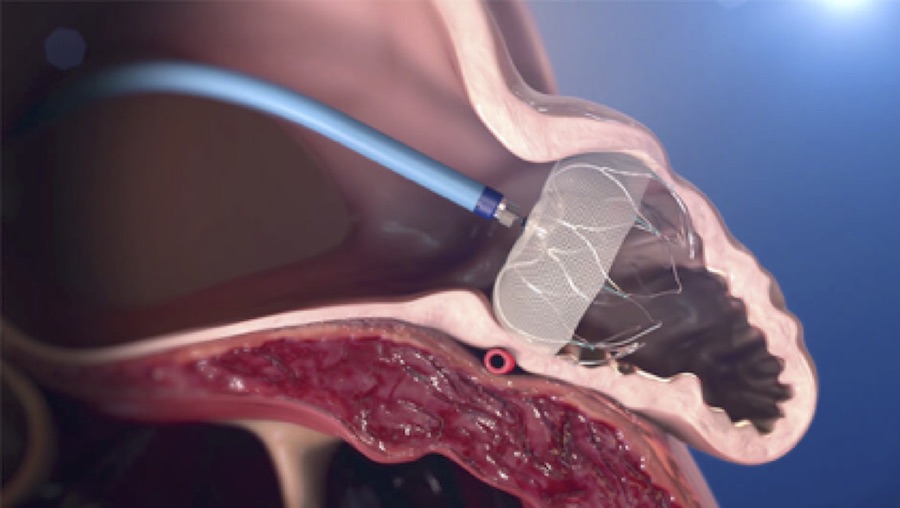 An anesthesiologist covers the two rooms with CRNAs (or the resident on NORA rotation). Things maybe a little different here, and you still need to remember your ABCs of anesthesia and resuscitation. However, there are times when you may notice heart rates in the 180s and more but you still chill out since it's just the Electrophysiologist's doing….they are inducing VFib so that they can ablate the site!!! At other times, you may get a sweet 93 y/o little lady with HR in the 30s for a pacemaker placement. The common procedures are AFib/VTach/SVT ablation, PPM/AICD placement (or removal, battery change) and Cardioversions. The latest is the Watchman procedure for prevention of strokes in patients with Atrial Fibrillation. The cases are scheduled to start at 8:00 am (in room time) so please try to be there early. When you arrive at the location, it would be prudent to discuss the day's cases with the Nurse Coordinator and the Electrophysiologists.
Dr. Jeremy Poppers
has very kindly outlined the anesthetics for a few common procedures which can be easily maneuvered to suit each patient. Most PPM and AICD cases are done under LA with sedation or maybe an LMA. A knowledge of 'Jet Ventilation' is required for AFib ablations and is a frequent cause of concern for some. But, we have a solution for that- the instructions on its use can be found in the drawer right under the vent, carefully prepared by Dr. Poppers, AND laminated!
I would like to reiterate, as with working in any NORA site, communication and teamwork is a must in the EP Lab too, both for patient safety, and for your own comfort!
Until my next NORA site description, stay healthy and calm!!

Chief Residents for 2019-20 Selected
Joy Schabel, MD
I am delighted to announce our three Anesthesiology Chief Residents for the 2019-2020 year:
Drs. Richard Tenure
,
Ehab Al Bizri
, and
William Leif Ericksen
! Please congratulate them when you see them.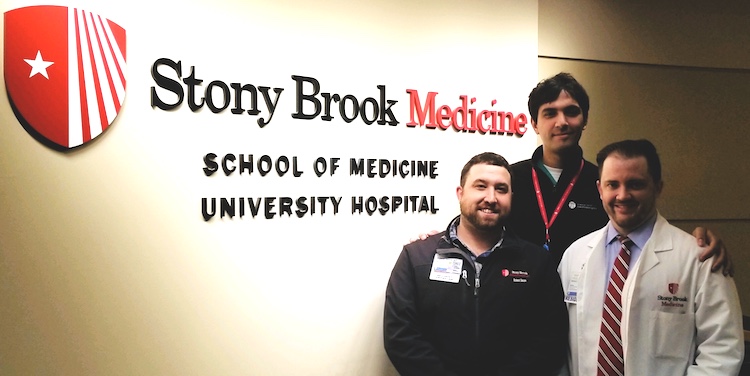 Thank you to our current Chief Residents,
Drs. Demetri Adrahtas
,
Michael Khalili
, and
Sana Na Javeed
, for their incredible service this past year. They will remain as acting Chiefs until sometime in May.

Meeting Report: ASER 2019
Sunitha M. Singh, MD
From April 25-27,
Jamie Romeiser
and I attended the American Society for Enhanced Recovery (ASER) 2019 Meeting in Washington, DC. We each presented 2 posters. Additional attendees included
Drs. TJ Gan
,
Ken Rosenfeld
, and
Elliott Bennett-Guerrero
. We brought back a wealth of information we hope will be beneficial to our Stony Brook ERAS programs.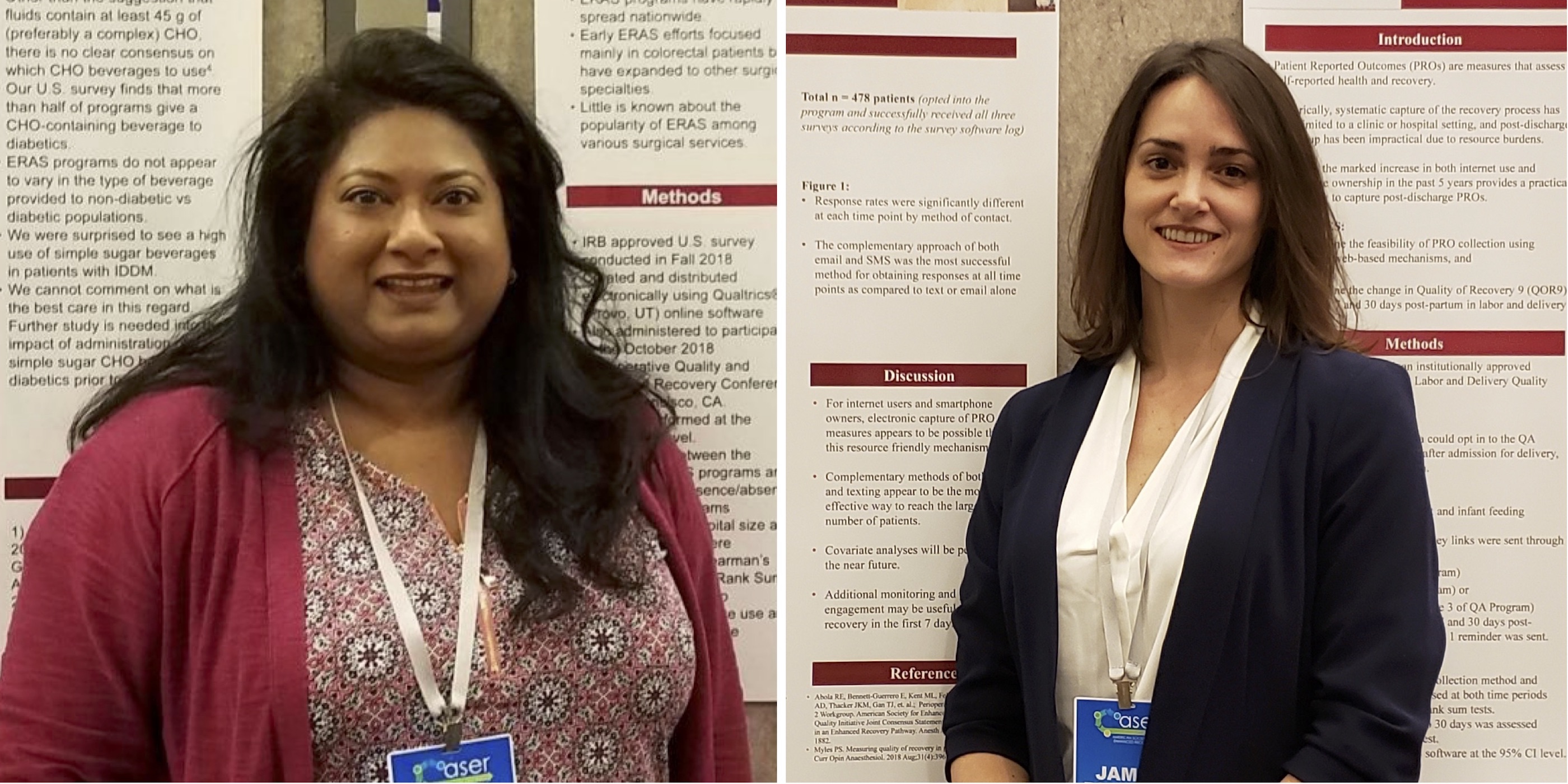 •
Singh SM, Liverpool A, Romeiser JL
, Thacker J,
Gan TJ, Bennett-Guererro E
. A Nationwide Survey of Preoperative Carbohydrate-containing Beverage Use in Adult Enhanced Rcovery After Surgery (ERAS) Programs.
•
Singh SM, Liverpool A, Romeiser JL
, Thacker J,
Gan TJ, Bennett-Guererro E
. What Type of Surgical Patients are Enrolled in Enhanced Recovery After Surgery (ERAS) Programs in the U.S.?
•
Romeiser JL, Cavalcante J, Richman D, Gan TJ, Bennett-Guererro E
. Feasibility of Collecting Perioperative Patient Reported Outcomes Using Web-Based Methods in ERAS Patients.
•
Romeiser JL, Abola R, Cavalcante J, Steinberg E, Gan TJ, Bennett-Guererro E
. Feasibility of Collecting Patient Reported Outcomes Using Web-Based Methods in Labor and Delivery Patients.

Anesthesia Interest Groups
Ursula Landman, DO
The Stony Brook Anesthesia Interest Group had a meeting of the matched MS4 students on March 2. The following matched students spoke to the group:
• Alvin Wu: University of Kentucky
• Brody Wiles: Columbia University Medical Center
• Kevin Tsai: Cedars-Sinai Medical Center, CA
• Shruti Parikh: Stony Brook
• Saul Siller: Yale - New Haven Hosp, CT

On April 1, the NYIT Anesthesia Interest Group met. There were two MS4 students who matched and spoke to the group:
• Zoe Lee: Westchester Medical Center
• Giacomo Scorsese: Stony Brook

All of the students are excited to begin residencies. Both groups had fantastic informative meetings.

Ralph Epstein, DDS
It is my pleasure to announce that
Dr. Gina Chen
and
Dr. Ryan Cheung
passed the ADBA Written Board exam they took on Wednesday, April 24, 2019 for the specialty of Dental Anesthesiology. Please join me in congratulating the two of them as they achieve this goal of excellence.
During the annual meeting of the American Society of Dentist Anesthesiologists (ASDA),
Dr. Jonathan Bacon
(grad 2019) and
Dr. David Guthrie
(DA-1 resident) gave excellent presentations. During the meeting, the ASDA sponsored a dinner celebrating the newly recognized 10th specialty in dentistry, Dental Anesthesiology. Below is a group picture of our Stony Brook graduates who were present along with current residents: Gina Chen, Ryan Cheung and David Guthrie in addition to faculty:
Dr. Marty Boorin
and
Dr. Ralph Epstein
.

Ursula Landman, DO

Thank you so much all for all the kind words, cards, donations, calls, texts, emails, Shivah visits, and food after my mom passed away. It was very much appreciated by myself and my family. I'm very lucky to have you all in my life. Thank you again.



Melissa A. Day, MS, CRNA, CCRN
Please join me in congratulating
Carine Etienne-Michel
in the newly created role of Lead Anesthesia Technician for evening shift. Carine completed her Bachelor of Science in Biology (2008) and Bachelor of Science in Healthcare Management (2012). She commenced her Anesthesia Technician position at Stony Brook Medicine on September 3, 2009. Prior to that, Carine was trained as a Medical Instrument Technician (Anesthesia Technician) at the Northport Veterans Hospital. She also worked at Northwell Hospital as an Endoscopy Technician and in the Chemistry Lab.
Carine is dependable and well respected by the Anesthesia Department. She is well versed in preparing for the various cases we have in the operating room (Cardiac, Trauma, Neuro etc.), running Cell Saver and preparing for cases in the Off-site settings. She has been instrumental in working with our new staff on the evening shift. Carine's additional duty as Lead Anesthesia Technician on evening shift will have her working in conjunction with
Josephine Pace
, Anesthesia Specialist/Anesthesia Technician Supervisor and myself in the management of the Anesthesia Technicians on evening shift.
Congratulations Carine!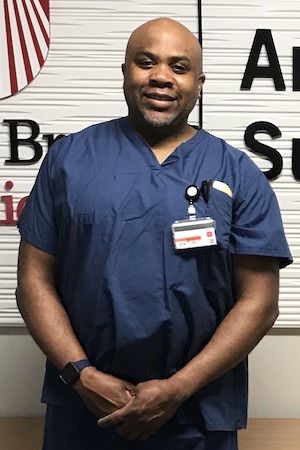 Lloyd Boone
, Lead Anesthesia Technician at the Ambulatory Surgical Center was recognized for 30 years of service in February! Lloyd started at Stony Brook Medicine in the housekeeping department in June 1988. He has worked in Distribution and as a Nursing Assistant on 15 South and the Main OR. While working in the Main OR as a Nursing Assistant he was recognized by Dr. Lagade for his motivation and work ethic. He was recruited to train as an Anesthesia Technician in the Anesthesia Department in 1998. He then went to "fill in" for someone in the Ambulatory Surgical Center in 2003 and has been there ever since.
Lloyd was appointed to Lead Anesthesia Technician in the Ambulatory Surgical Center in 2008 where he manages the Anesthesia Technicians, anesthesia supplies as well as assisting Providers. He is well respected by the Anesthesia Department and we congratulate him on 30 years of service to Stony Brook Medicine!

James P. Dilger, PhD
URECA!
Undergraduates at Stony Brook have golden opportunities. So do the investigators who welcome these talented undergraduates as partners in research. Stony Brook's
U
ndergraduate
RE
search and
C
reative
A
ctivities program program has been fostering this since 1987. In the spring of each year, there is a URECA Celebration featuring exhibits and presentations by the students. On April 24, our department was represented by 4 undergraduate students presenting two posters at the Celebration. Here they are, along with their project titles and faculty mentors. Congratulations to all!

•
Zachery Hage, Lauren Mistretta
. Characterization of Fatty Acid Amide Hydrolase 2.
Dr. Martin Koczocha
•
Elizabeth Varghese, Sai Palati
. "Feasibility of Using Still Pictures as a Guidance for Bone Resection."
Dr. Srinivas Pentyala

Ellen S. Steinberg, MD

Our daughter, Rina, will be graduating from the University of Michigan on May 4. This is the last of our college graduations... The end of an era for the Steinberg family.



Srinivas Pentyala, PhD
It is with great pleasure that I inform you about our 16th Annual "Science And Research Awareness Series" (SARAS) that will take place in July (8-26). Our department started this summer program in 2004 with 21 students and 1 faculty, where the students got to learn about cutting edge technologies and novel findings in the field of Biomedical research. Interest in the program grew rapidly and now students from all over the country attend this 3-week program at our medical center. This year we have 132 students officially registered in the program. More than 80 experts from clinical sciences, basic sciences, translational sciences, administration, law and business volunteer to educate, excite and inspire the students. Please check out the SARAS program details at:
https://sites.google.com/a/stonybrook.edu/saras/
If you find any of the topics interesting (or don't have a clue as to what these topics and clinical or research areas are), you are more than welcome to attend the program that runs from July 8 to July 26 in Lecture Hall 3, HSC Level 2, and in Med students Lab -161 HSC Level 2. This is "our" program being organized by "our department", so drop by and see what goes on in SARAS. Thanks for all your support in making this program one of the most sought-after summer programs in Biomedical Sciences.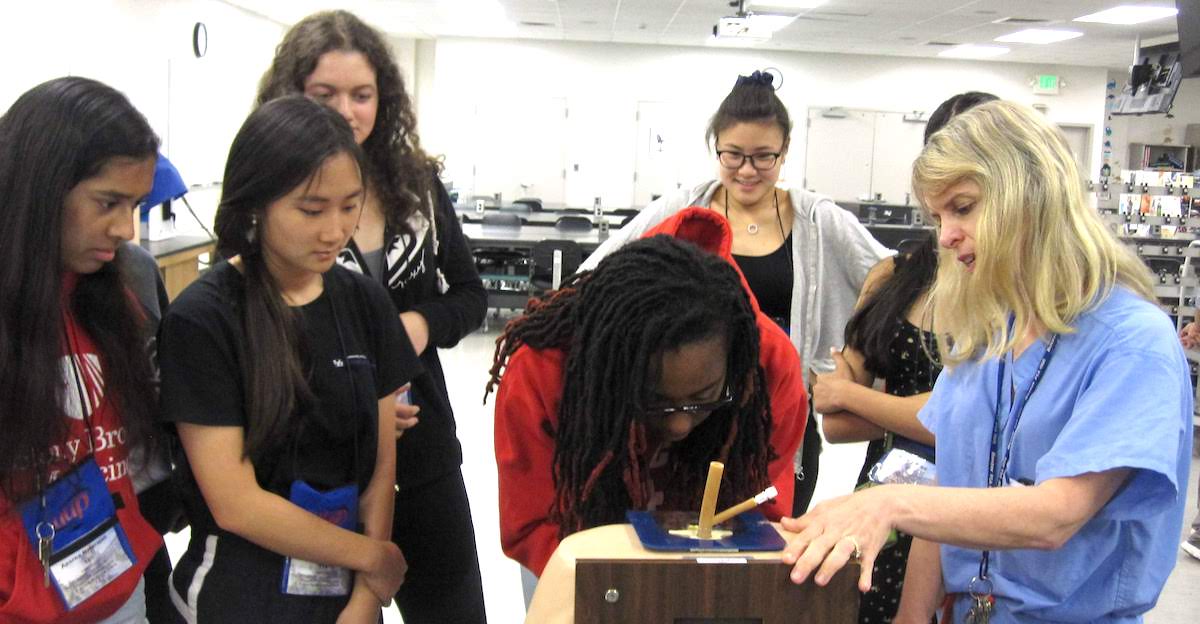 HELP NEEDED!
Our "Clinical Skills Workshop" takes place on July 22 (Monday) from 1:30 PM to 4:00 PM in our Clinical Skills Center. Each year, a few of our colleagues volunteer to help run this workshop. Still, we desperately need additional experts to interact with the SARAS students in this workshop. If any one of you (Faculty/Residents/Nursing and Nurse Anesthetist Staff) is interested and available that day, please consider helping. As a bonus, you will become an instant "
ROCK STAR
" and "
ROLE MODEL
" for these enthusiastic kids. If you are interested, please let us know.

James P. Dilger, PhD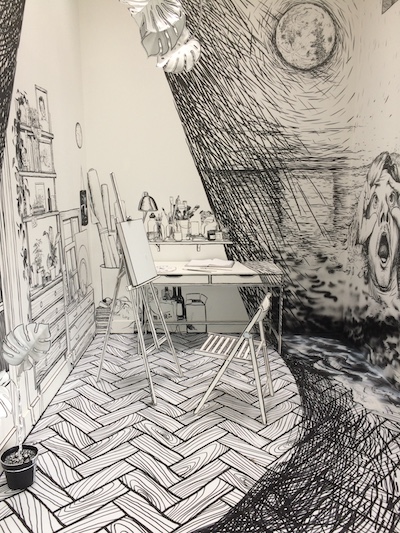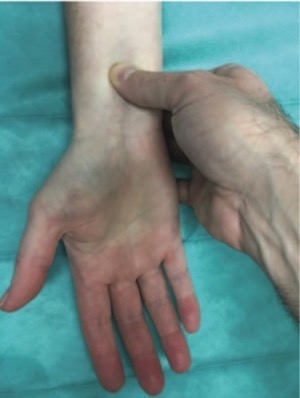 Noll E, Shodhan S,

Romeiser JL, Madariaga MC, Page C, Santangelo D, Guo X, Pryor AD, Gan TJ, Bennett-Guerrero E

. A randomised controlled pragmatic trial of acupressure therapy on quality of recovery after surgery.

Eur J Anaesthesiol. 2019 Apr 5

Mascha EJ,

Gan TJ

, Vetter TR. Quality Improvement Interventions Associated With Improved Postoperative Nausea and Vomiting: Separating the Signal From the Noise.

Anesth Analg. 2019 May;128(5):847-849

Monthly Muscle Chillaxant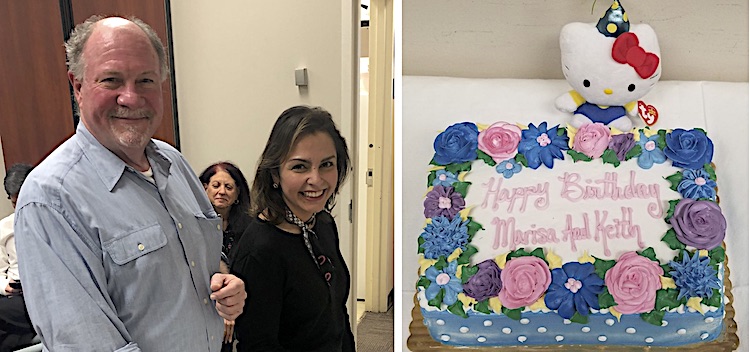 SleepTalker, the Stony Brook Anesthesiology Newsletter is published by the Department of Anesthesiology
Stony Brook Medicine, Stony Brook, NY
Tong Joo Gan, M.D., MHS, FRCA, MBA, Chairman
Editorial Board: James P. Dilger, Ph.D.; Stephen A. Vitkun, M.D., M.B.A., Ph.D.; Marisa Barone-Citrano, M.A.; Richard Tenure, M.D.