| | | |
| --- | --- | --- |
| Volume 37 Number 5 | Stony Brook, NY | < May 2022 > |
| | | |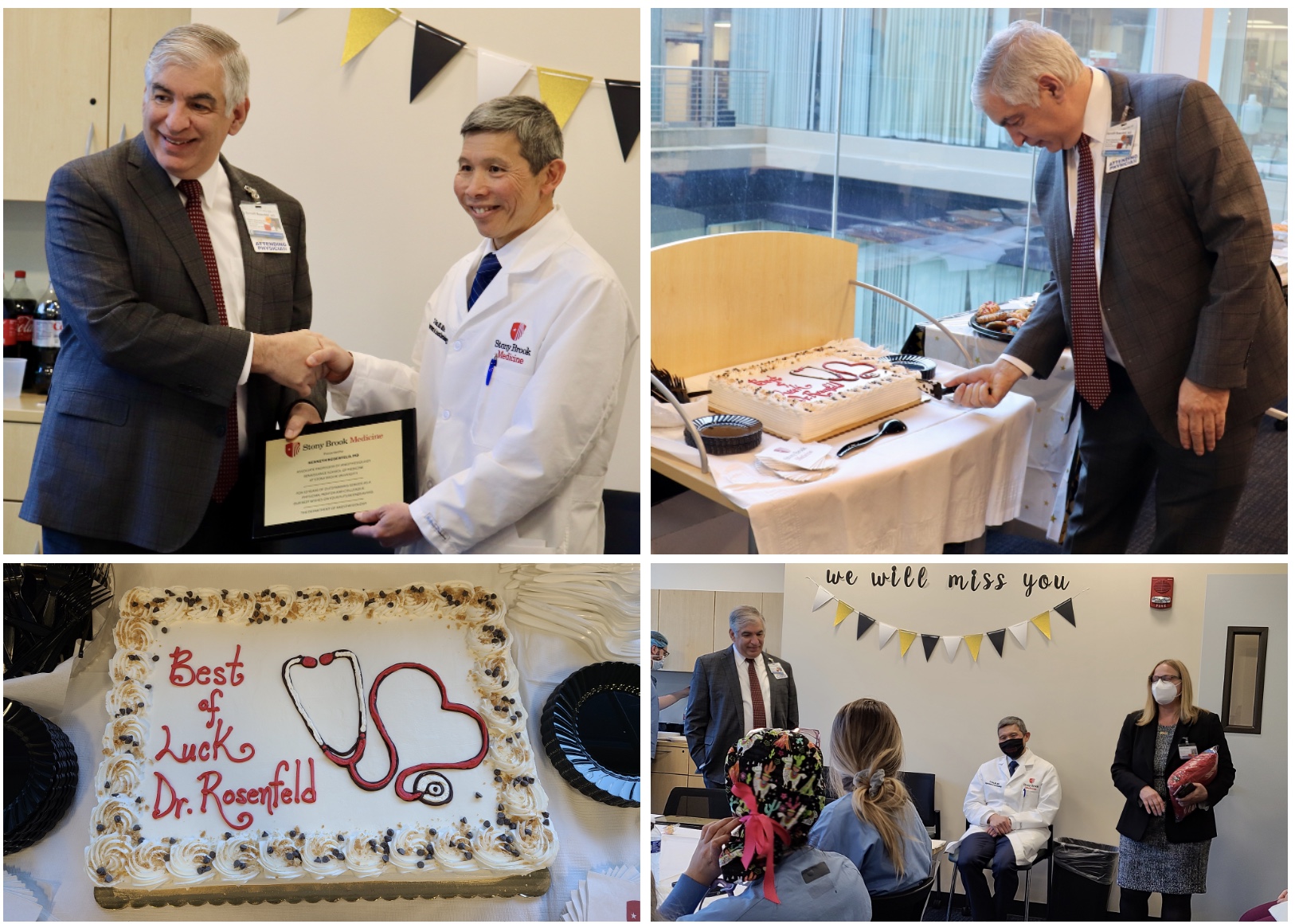 STARS: STaff Appreciation and Recognition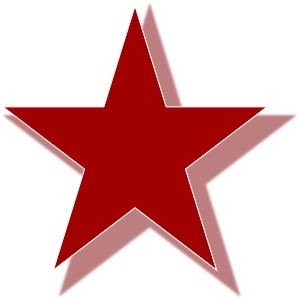 Dr. Bharathi Scott
received this email from the daughter of a recent patient.
You were the anesthesiologist for my mom, yesterday (the 90 year old lady having the endometrial biopsy, D&C and Mirena placement).

I wanted to thank you so much for your input yesterday. Had it not been for you, that whole procedure would have gone differently, and looking back at the entire experience Mom & I think you were absolutely right. We were so worried, but you gave us confidence and reassurance that general was the way to go, despite her age.

She came through it beautifully. She felt no pain, and they were able to complete all the steps to give her the best chance, which may not have happened if she was awake, moving or in pain, thanks to you. She was alert and comfortable when I saw her after. She only has a lingering cough and mucus, which the nurses assured us was temporary. No nausea, no soreness, no hoarse voice, eating well, and nothing like my difficult experience.

I never wrote a thank you to an anesthesiologist, but I really appreciate that you spoke up and guided us through a stressful moment.

Thank you!


Dr. Gan commented: "Bharathi, you made the department and profession proud. As the daughter said, "I never wrote a thank you to an anesthesiologist". Your care made an impact!".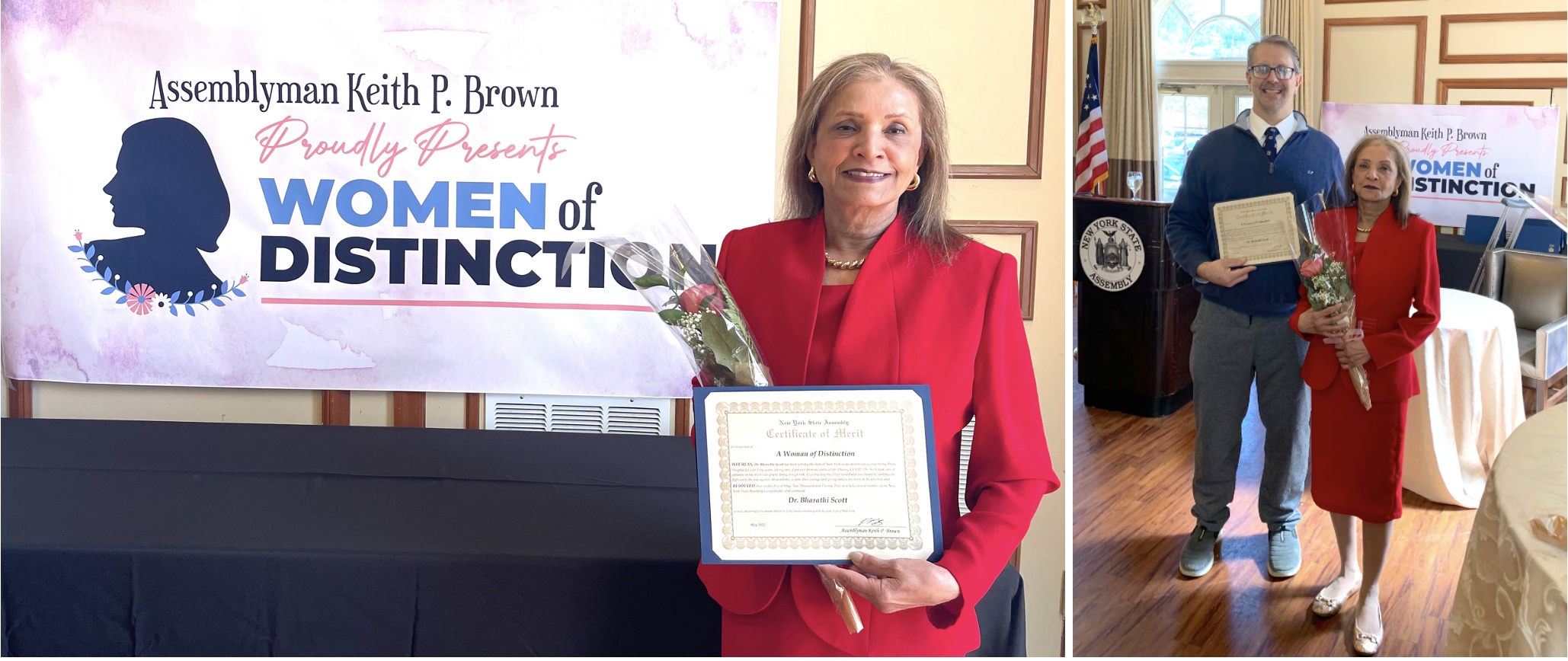 Dr. Bharati Scott
was honored and recognized as "A Woman of Distinction" by Hon. Keith Brown, the New York State Assemblyman from the 12
th
district. The award was given to her for her outstanding work and contribution to the community in the health care category. The ceremony was held on May 1
st
at the Hamlet Golf and Country Club Commack NY. Congratulations!
Welcome (Back) Dr. Al-Bizri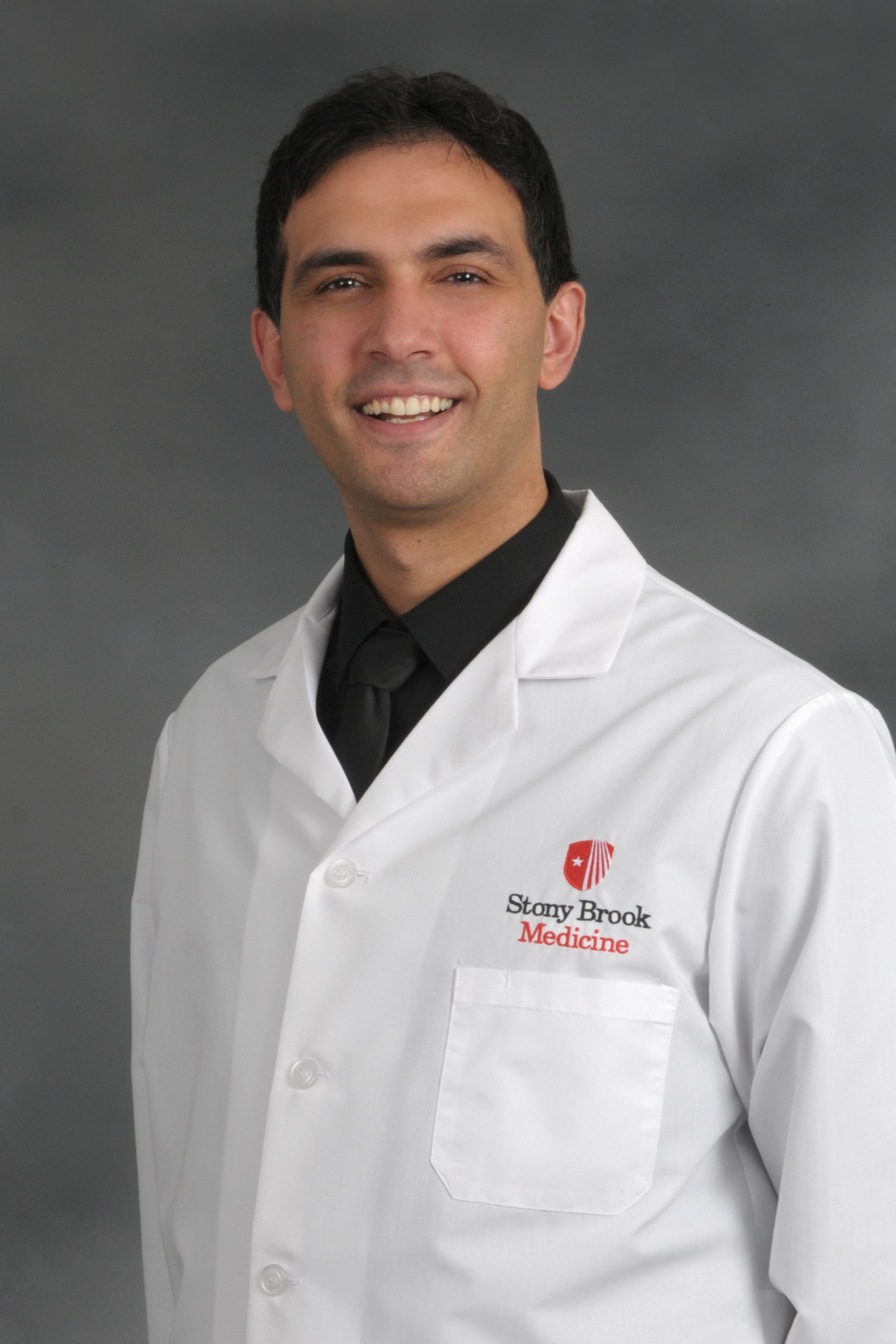 James P. Dilger, PhD
Dr. Ehab Al-Bizri
has returned to Stony Brook Anesthesiology as an Assistant Professor! Dr. Al-Bizri did his medical degree at the University of Aleppo in Syria and then emigrated to the US in 2014. He spent two years as a Research Assistant in our department and then entered the Residency program in 2016. In the final year of his Residency, he was a Chief Resident. After graduation in 2020, he did a Pediatric Anesthesiology Fellowship at Yale University. He remained there for another year as a Postdoc Fellow but has now re-crossed the Sound to return to Stony Brook. He has become a member of the Pediatric Anesthesiology Division.
Ehab has authored four peer-reviewed publications, one book chapter, and nine conference presentations.
We are delighted to welcome Ehab back to Stony Brook!
Academic Research Evening 2022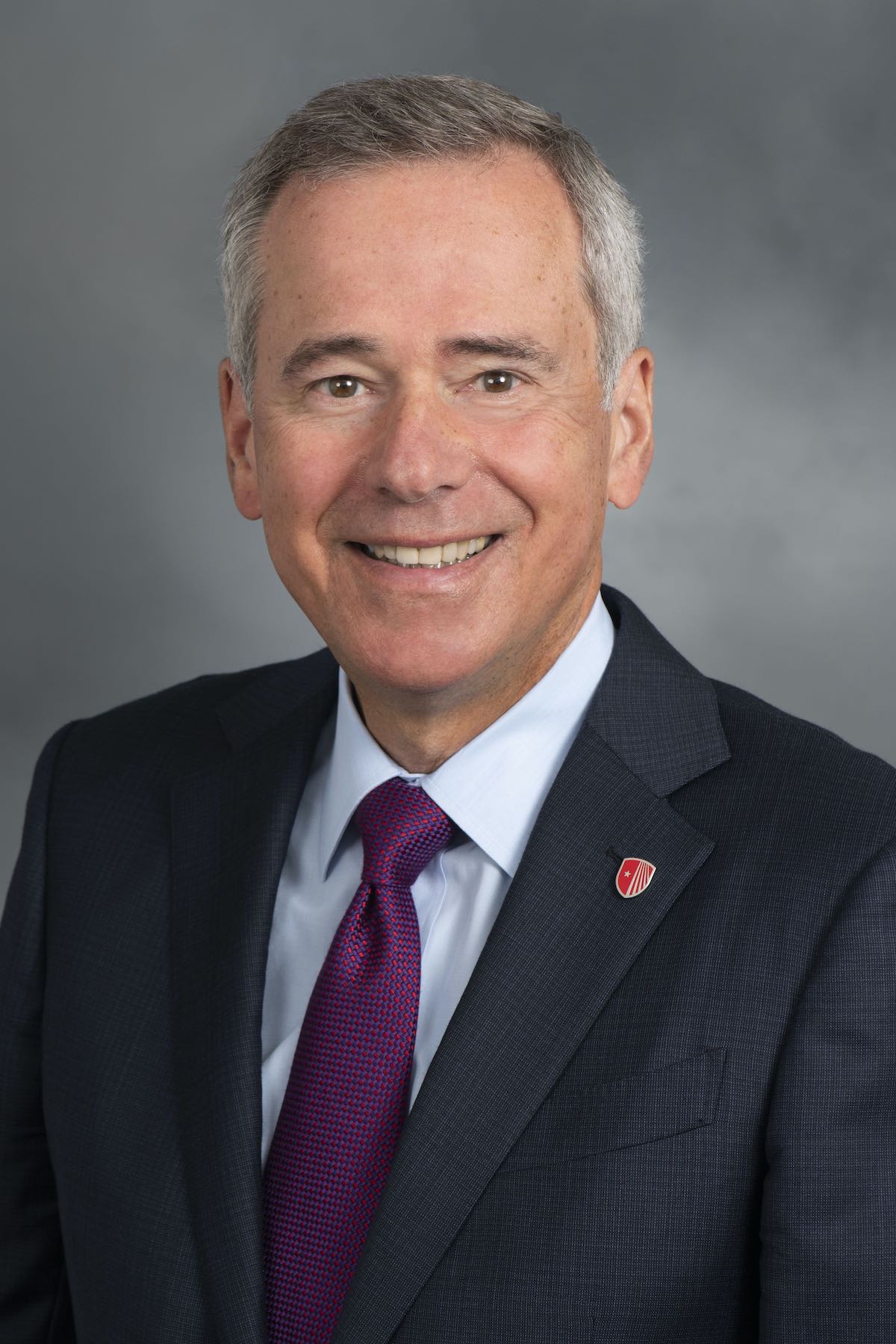 The
2022 Peter Glass Academic Research Evening
takes place on Tuesday, May 24, 2022 from 3:30 pm to 8:30 pm in the MART Building. Our keynote speaker this year is Harold ("Hal") L. Paz, MD, MS, Executive Vice President for Health Sciences, Stony Brook University and Chief Executive Officer, Stony Brook University Medicine.
Dr. Paz received his bachelor's degree from the University of Rochester, a master of science in life science engineering from Tufts University and his medical degree from the University of Rochester School of Medicine and Dentistry. He completed his residency at Northwestern University, where he served as chief medical resident. Dr. Paz was a Eudowood Fellow in pulmonary and critical care medicine at Johns Hopkins Medical School. In addition, he was a postdoctoral fellow in environmental health science at Johns Hopkins School of Hygiene and Public Health.
Dr. Paz is a nationally renowned healthcare leader with a unique combination of expertise in both academic medicine and industry. Prior to coming to Stony Brook last October, he was Executive Vice President and Chancellor for Health Affairs at The Ohio State University and Chief Executive Officer of the Ohio State Wexner Medical Center. His other experience includes serving as Dean and Chief Executive Officer Dean and Chief Executive Officer at Rutgers Robert Wood Johnson Medical School; Chief Executive Officer, Senior Vice President for Health Affairs and Dean Chief Executive Officer at Penn State Hershey Medical Center and Health System; and Executive Vice President and Chief Medical Officer at Aetna, Inc.
Dr. Paz's most highly cited publication, with over 1600 citations, is "Rapid increase in hospitalization and mortality rates for severe sepsis in the United States: a trend analysis from 1993 to 2003" which appeared in
Crit Care Med. 2007 May;35(5):1244-50
.
Dr. Paz's Keynote Address is entitled "Moving to the Third Curve of Healthcare".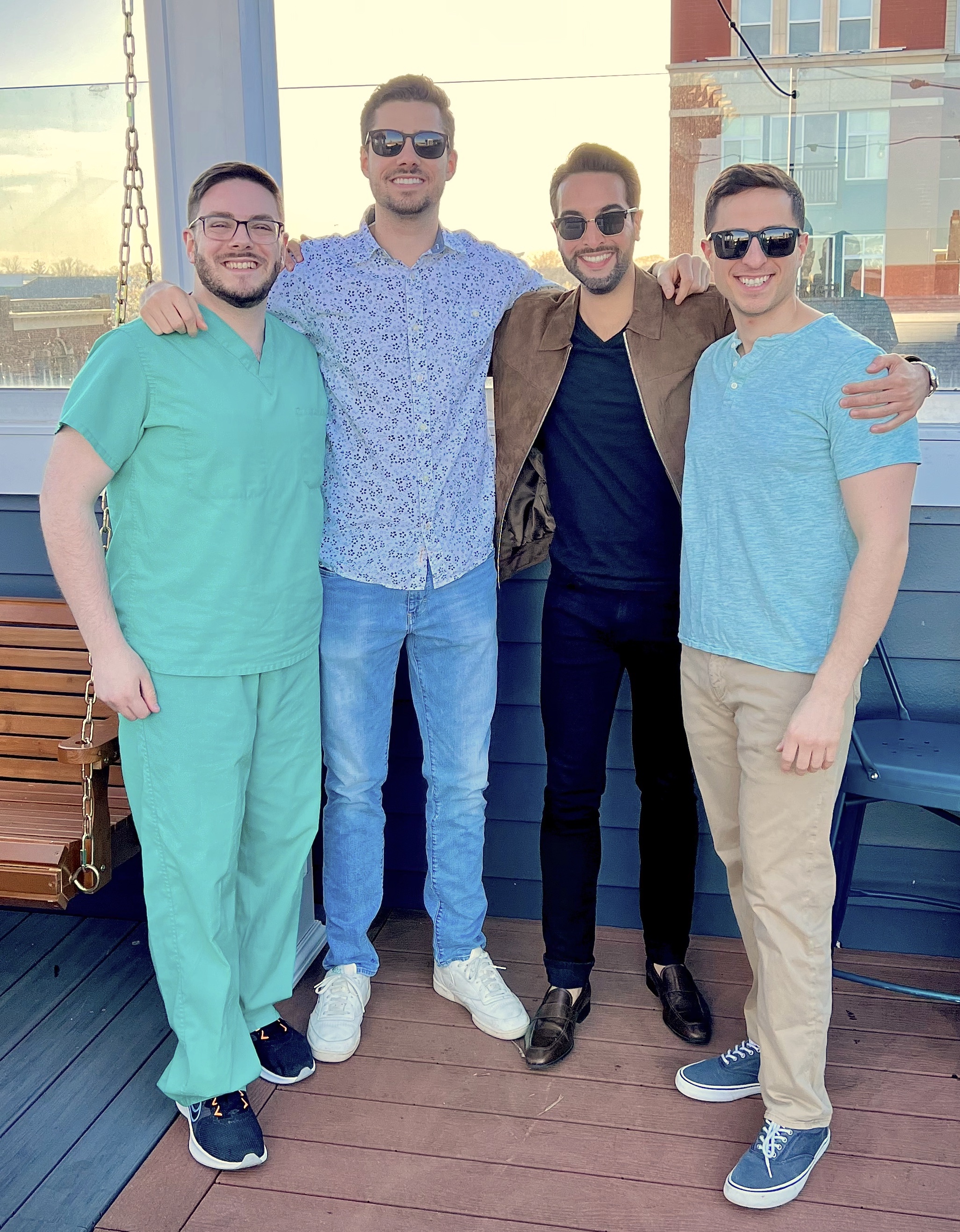 Dr. Dubnau Awarded NIH Grant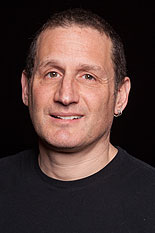 Dr. Joshua Dubnau
received a research grant from the National Institute on Aging. The project "Brain Aging and Alzheimer's Related Dementias: Convergence onto Retrotransposons and Endogenous Retroviruses", is focused on the synergy between aging and retrotransposon activation in the initiation and progression of neurodegenerative diseases. The grant began this month and will continue until May 2025 with a total funding of $1,797,890. Congratulations, Josh!
Recent Meeting Presentations
Society of Cardiovascular Anesthesiologists 2022
Seiter C
, Mironis A, Balaguer J,
Zabirowicz E, Poppers J.
Non-Bacterial Thrombotic Endocarditis Precipitating Acute Embolic Stroke Following COVID-19 Infection: A Case Report
.
The 16th Annual SBU Women in Medicine Research Day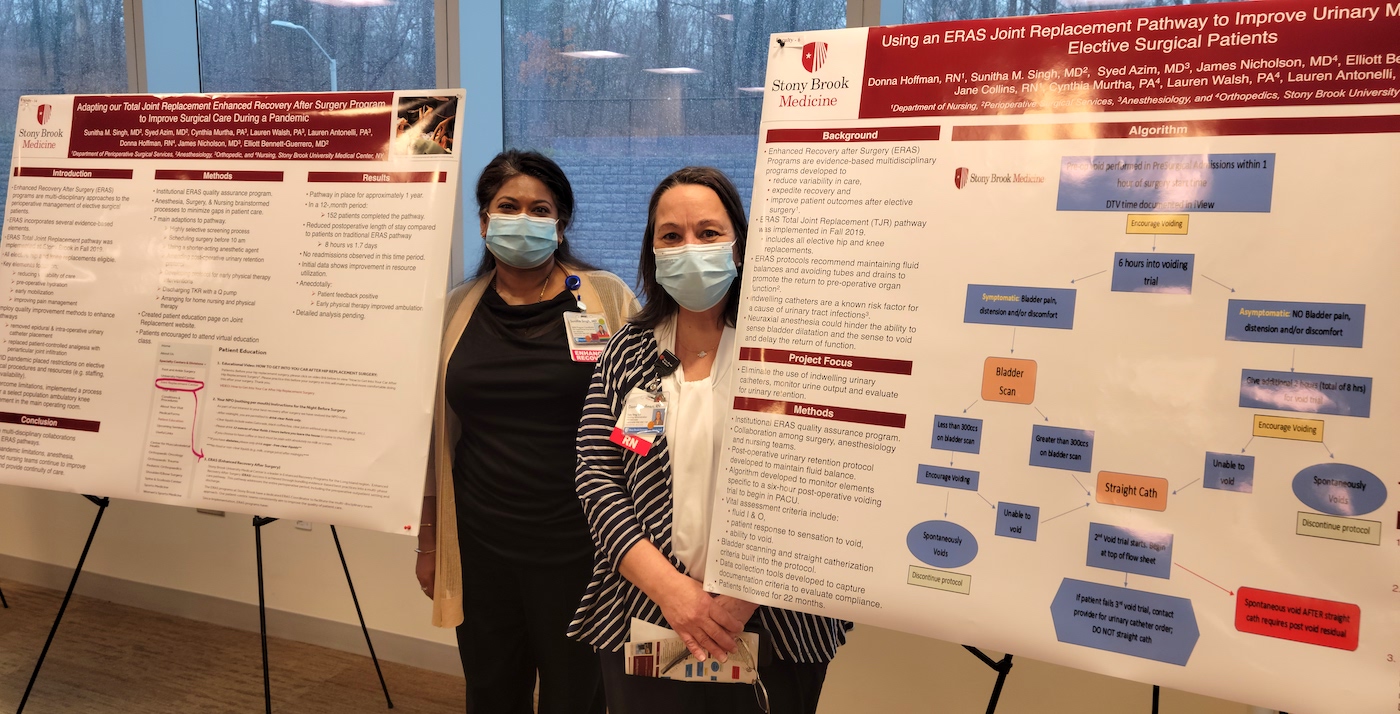 Singh SM, Azim S
, Murtha C, Walsh L, Antonelli L, Hoffman D, Nicolson J,
Bennett-Guerrero E
.
Adapting our Total Joint Replacement Enhanced Recovery After Surgery Program to Improve Surgical Care During a Pandemic.
Hoffman D,
Singh SM, Azim S
, Nicolson J,
Bennett-Guerrero E
, Collins J, Murtha C, Walsh L, Antonelli L.
Using an ERAS Joint Replacement Pathway to Improve Urinary Management in Elective Surgical Patients.
URECA's Undergraduate Research Symposium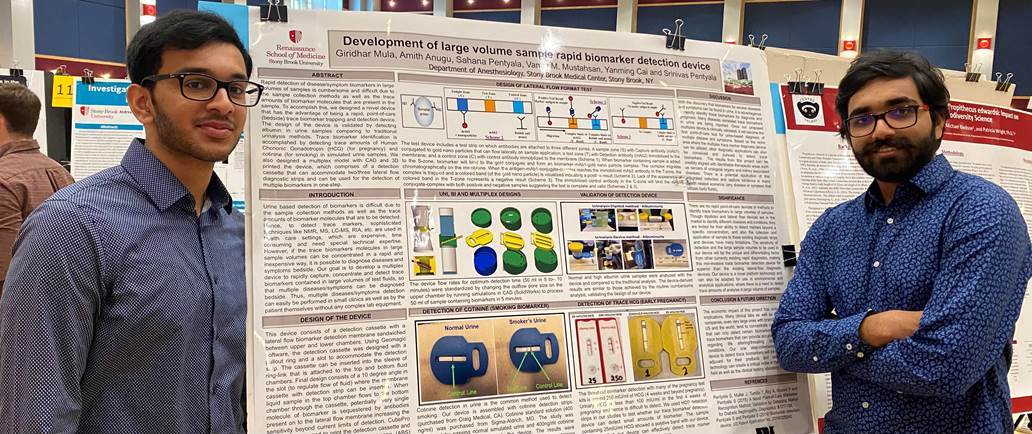 Mula G, Anugu A, Pentyala S, Mustahsan VM, Cai Y, Pentyala S
.
Development of Large Volume Sample Rapid Biomarker Detection Device.
SBM Excels in Cardiac Surgery
Dr. Henry Tannous informed us that NY State had released the 2018 outcome reports for cardiac surgery. Stony Brook Medicine had very low mortality rates among the 38 programs in both the Isolated CABG, and the Valve or Valve/CABG categories. Congratulations!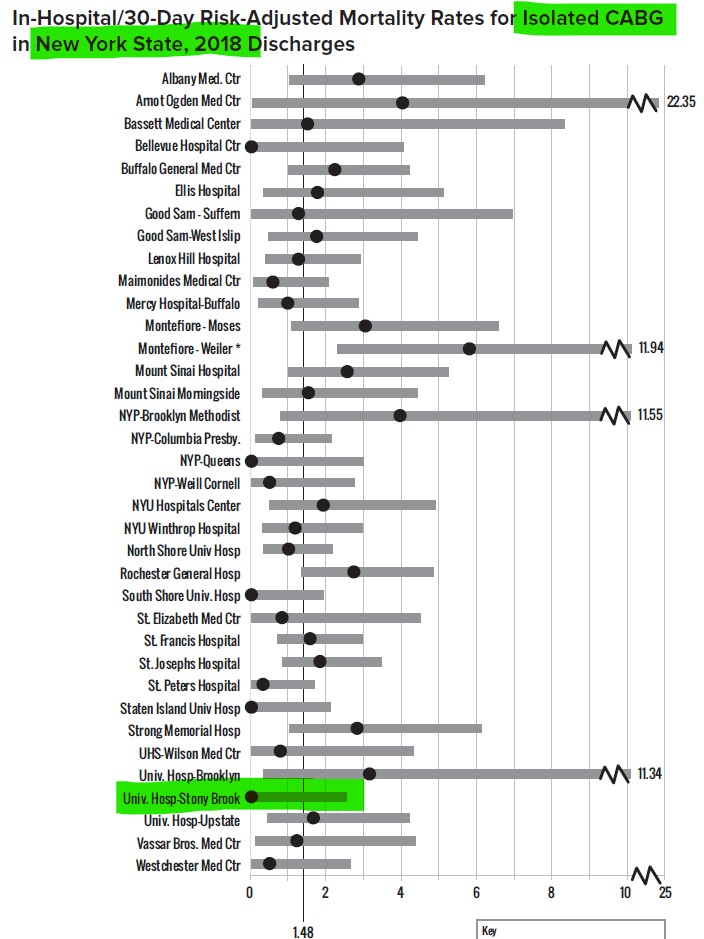 Melissa A. Day, MS, CRNA, CCRN
Please join me in welcoming
Stephen Clay
and
Nitzalis (Nitzy) Ayala
to our Anesthesia Technician Team. Stephen joins us with over 10 years' experience as a Certified Nursing Assistant at Stony Brook Medicine, working on 15N and recently in the PACU. Stephen transitioned to the Anesthesia Technician role in the main operating room on March 3, 2022. Nitzalis joins us with over 16 years' experience as a Nursing Assistant II at Stony Brook Medicine. Nitzalis also has experience as an LPN, Respiratory Technician and Hemodialysis Technician. Nitzalis transitioned to the Anesthesia Technician role in the main operating room on March 17, 2022.
Welcome to our Anesthesia Technician Team Stephen and Nitzy!
Update: Division on Dental Anesthesiology
Ralph Epstein, DDS
The annual meeting of our specialty organization, American Society of Dentist Anesthesiologists (ASDA), was held last week in Atlanta, Georgia. Our Stony Brook residents, past graduates and faculty played a major role in this meeting.
I am extremely happy to report that our 4 senior residents took their written board exam earlier in the week and all four of them passed the examination. Congratulations to doctors
Sarah Lee
,
Grace Lin
,
Jeff Nguyen
and
Benny Statman
!
Two of our residents,
Dr. Brendan Key
and
Dr. Daniel Lim
gave oral presentations on TCI and a foreign body in the nasopharynx respectively.
Dr. Jeff Nguyen
and
Dr. Jennifer Kim
gave a poster presentation on treatment of a patient with CRPS in an office-based venue. Their poster won second place among 6 posters in the competition. In addition,
Dr. Marty Boorin
gave a presentation along with our previous graduate from last year,
Dr. David Guthrie
.
Dr. Jonathan Bancroft
who graduated in 2017 was in charge of 2 sections of the meeting: Resident Presentations and a Review of Current Literature.
Please join me congratulating our graduating residents along with the other residents, graduates and faculty who gave presentations and took part in the meeting presentation.
Anesthesia Interest Groups

Ursula Landman, DO

We had our annual "Meeting of the Matched" for the Stony Brook Anesthesia Interest Group on April 5. The following students who matched spoke to the group: Nicholas Browne (Miami), Zoe Lazarus (University of Massachusetts), Evan Shorr (NYU), Alex Freedenberg (Ohio State), Ryan Casey (Lahey Clinic), and Rachael Wachter (Jefferson).

On April 4, the NYCOM-NYIT Anesthesia Interest Group heard from the matched soon-to-be-grads. Alexandra Tsivitis (categorical Stony Brook), Dannah Rae Sajorda (UMass Memorial Health at UMass Chan Medicine), categorical, Moez Ahmed (SUNY Upstate), Amanda Milburn (Northwell Plainview transitional year, St. Joseph's Paterson Anesthesiology), Jesse Kestenman (Indiana University SOM), and Thomas Page (University at Buffalo).


James P. Dilger, PhD
SleepTalker
is emailed to some 200 alums (faculty, residents and staff) each month. So, you know about us, but we don't know about you! We are starting a "Life After SB Anesthesia" column and would love to hear from you! Tell us your story or share a memory in the form of prose, poetry, and/or photos. Thanks to Dr. Deborah Richman for suggesting this!
Thanks to Dr. Joy Schabel, the department's
Residency Program webpage
has testimonials from former residents. Former residents who would like to support our recruitment efforts can send their paean to
Joy
directly.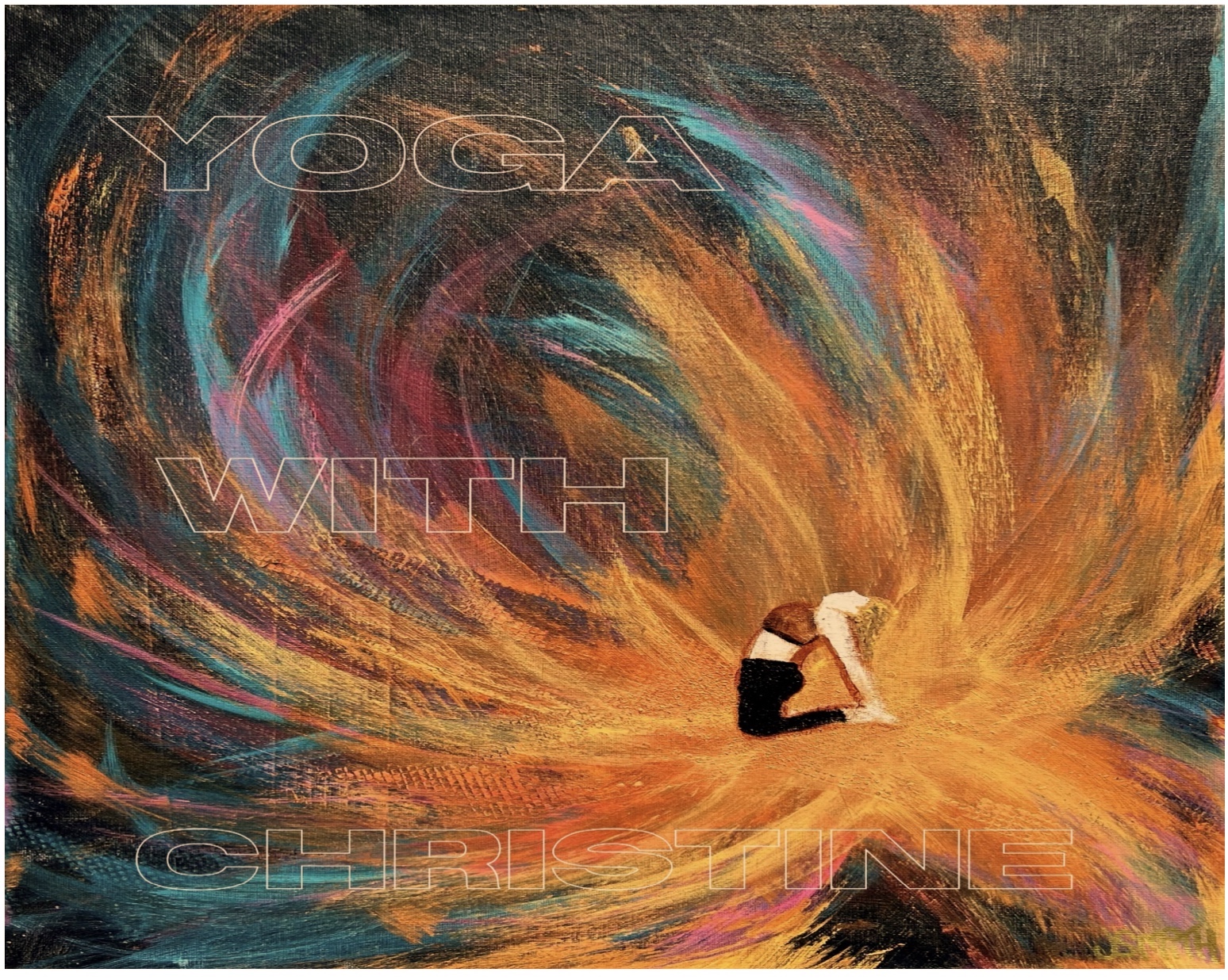 What are some benefits of practicing yoga?
• Increased flexibility
• Improves energy levels
• Weight reduction
• Mental clarity, calmness and relaxation of the mind.
What should I bring?
Everyone will need to bring their own yoga mat, towel, and water.
What should I expect?
Each class is 6o minutes. We will start class with a breathing exercise to calm the body and mind, to create a sense of peacefulness in the room. From there, we will move through a variety of yoga postures.
What if I've never practiced yoga before?
If this is your first class, it's important to listen to your body and go at your own pace. Remember, you never want to force a posture, we are all different and need to respect where we are in the moment. Every practice is different.
Monthly Muscle Chillaxant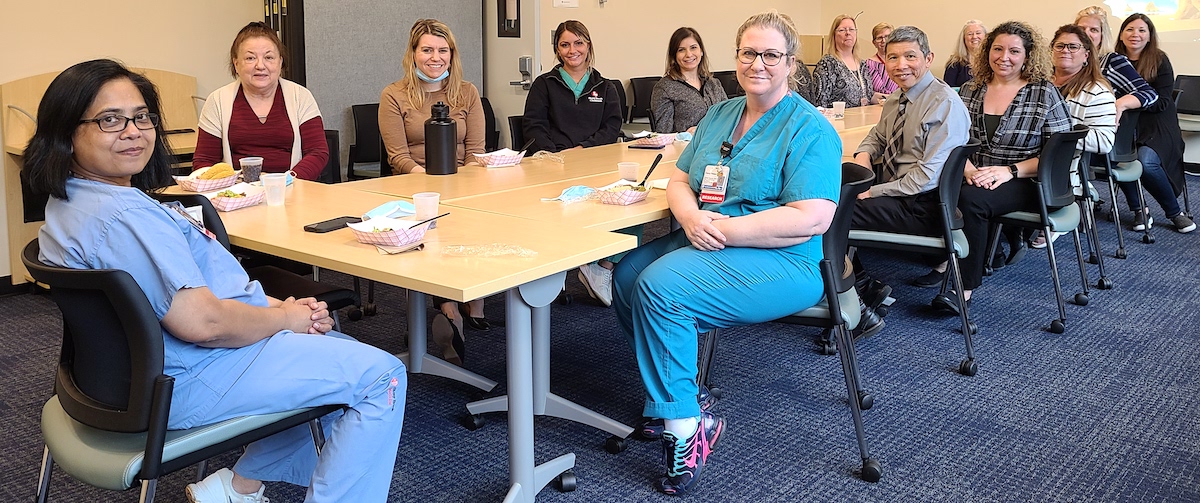 SleepTalker
, the Stony Brook Anesthesiology Newsletter is published by the Department of Anesthesiology
Stony Brook
Medicine
, Stony Brook, NY
Tong Joo Gan, M.D., MHS, FRCA, MBA, Chairman
Editorial Board: James P. Dilger, Ph.D.; Stephen A. Vitkun, M.D., M.B.A., Ph.D.; Marisa Barone-Citrano, M.A.; Ramanjot S. Kang, M.D.